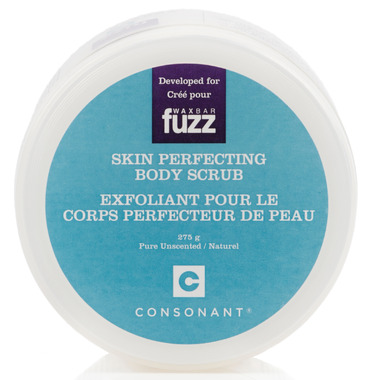 Description
This unique, glycerin-based scrub was formulated with the wax experts at FUZZ Wax Bar to perfectly prepare skin for waxing and to help prevent ingrowns.
Rather than just one kind of exfoliating 'grain', Consonant has combined sugar and salt together. The two grains have different shapes and sizes which provides a more complete exfolation. The particles are suspended in a highly moisturizing glycerin base. This also helps to improve the adherence of the grains to skin and leaves a beautiful velvety finish.
Don't wax? This scrub is a perfect full body exfoliant.

Pre-wax Benefits:
The combination of grains lifts hairs off the skin preparing it for an effective waxing treatment
The glycerin helps to fortify the skin prior to the treatment, preventing damage or irritation
Post-wax Benefits:
The unique combination of grains helps keep hair growing straight, preventing it from becoming ingrown
Dry Skin Benefits:
Dead, dry cells are sloughed away, leaving skin feeling beautifully soft and smooth
Exfoliation ensures pores are not clogged, reducing redness and irritation
Exfoliated skin allows lotion and other skin conditioners to fully penetrate into skin
Ingredients: Sucrose, Sodium Chloride, Cocos Nucifera (Coconut) Oil, Olea Europea (Olive) Oil*, Glycerin, Ricinus Communis (Castor) Seed Oil, Cetearyl alcohol, Simmondsia Chinensis (Jojoba) Seed Oil, Oryza Sativa (Rice) Bran Wax, Sodium Cocoyl Isethionate, Tocopherol Acetate (Vitamin E).


*Organic Ingredient
100% Natural.
Packaging may vary

Highlights