Coppertone Clearly Sheer Sunscreen Lotion for Face SPF 50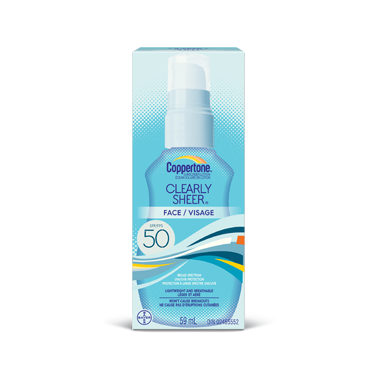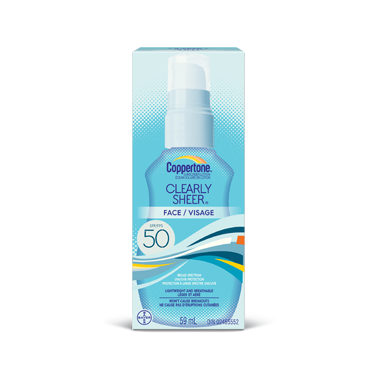 Coppertone Clearly Sheer Sunscreen Lotion for Face SPF 50
Coppertone Clearly Sheer sunscreens deliver trusted broad spectrum protection in delightfully light, refreshing formulas that barely leave a trace on the skin. They absorb quickly, feel clean and light on the skin, and won't clog pores or cause breakouts. The Clearly Sheer line is designed with her specific needs in mind, and is unlike any Coppertone you've ever tried before.
Features
:
SPF 50, broad spectrum UVA/UVB protection
Lightweight sunscreen formula feels clean and light, and great to use under makeup
Won't clog pores or cause breakouts (clinically tested on acne prone skin)
Moisturizing formula helps keep skin smooth and soft
Appropriate to use on sensitive skin
Light and fresh clean scent
Water resistant (80 minutes)
Use and reapply as directed on packaging
When used as directed along with other sun protection measures, it can help decrease the risk of early skin aging caused by the sun
Heather:
a few months ago
I usually use Asian sunscreens which are more like skincare, bought this simply because I was running low and needed a replacement from closer to home. Packaging isn't pretty but the pump works well and dispenses a good amount. The scent is a bit overpowering, a very sunscreen-y smell like any other copper tone.
It goes on as a light lotion and soaks in pretty fast. You may have a minute of tackiness/tightness before it dries down. It doesn't feel invisible, you can tell there is product on your skin but its not greasy. I did find that if you try to layer in top of lots of skincare it does pill which is my biggest deal breaker. I did not break out (as long as I cleansed thoroughly at night with oil, wipes won't cut it) or see any signs of drying.
I won't be rebuying, this sunscreen is not very cosmetically elegant, but few North American ones can compare to imported... it's not the worst thing I've ever put on my skin and It's better to be protected from damaging uv.
Page
1