Coppertone Pure & Simple Sensitive Sunscreen Lotion Hypoallergenic SPF 50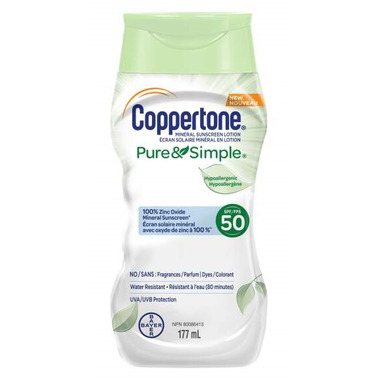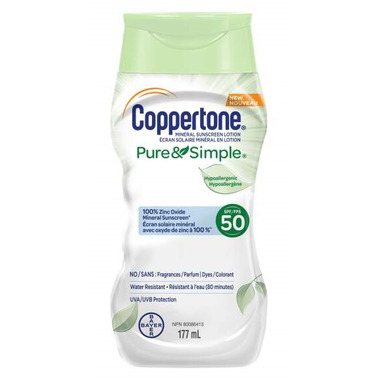 Coppertone Pure & Simple Sensitive Sunscreen Lotion Hypoallergenic SPF 50
Coppertone Pure & Simple Sensitive Skin is a mineral sunscreen lotion that is gentle on the skin and protects against a broad spectrum of UVA and UVB. This 100% Zinc Oxide mineral sunscreen is hypoallergenic, water resistant (80 minutes), and contains no Oxybenzone, parabeans, PABA, fragrances or dyes.
Features:

100% Zinc Oxide Mineral Sunscreen for sensitive skin
Tear free, gentle, and hypoallergenic
No PABA, Parabens, Phthalates, Fragrances, Dyes, Oxybenzone
Water resistant (80 minutes)
SPF 50; Broad spectrum UVA/UVB protection
Directions: Use and reapply as directed.