CoverGirl
CoverGirl Eye Enhancers 4-Kit Shadows Pure Romance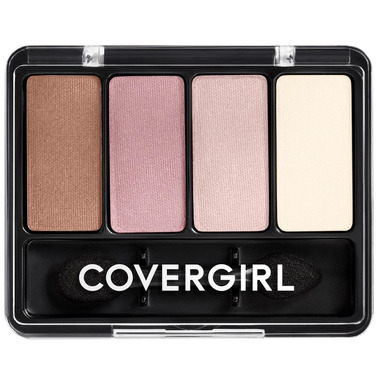 CoverGirl
CoverGirl Eye Enhancers 4-Kit Shadows Pure Romance
CoverGirl Eye Enhancers 4-Kit Shadows Pure Romance
is rated out of
5
by
1033
.
---
Description
This eyeshadow kit is a collection of great shades handpicked by their makeup pros and designed to make your eye look go from day to night. They shades in each eyeshadow kit blend effortlessly to bring your eyes out beautifully, without overshadowing. Experiment using them together or as single shades.
Features:
Matte, pearl and sparkle collections
Blends easily
Formula lasts for hours
Shade Descriptions:
Shimmery Brown
Deep Lilac Purple

Pale Pink
Off-White

Features
Matte, pearle and sparkle collections
Blends easily
Formula lasts for hours
Rated

5

out of

5
by
Sadie
from
Wow!! Eye Shadow!!
You don't know how good this eyeshadow works! When you put it on you burst in to tears because you look so good. Don't judge it on the color try it on then judge it. I LOVED IT!!!
Date published: 2007-08-07
Rated

5

out of

5
by
Anonymous
from
i never wore eyeshadow until i found this
i just got this in dance party i have green eyes, redish hair, and fair skin and it works perfectly. it even stays on when i accidentally rub my eyes. i never wore shadow before because it would crease or come off, but this stays put.
Date published: 2008-09-19
Rated

5

out of

5
by
PrncessMe
from
Wow!!!!!!!!!!!!!!!!!!!!!!!!!!!!!!!!!!!!!!!!!!!!!!!
This is the best eyeshadow ever!!!! 1.) They are sooooo smooth. 2.) They glide on easily with a great finish. 3.) The color is perfect. 4.) The eyeshadow lasts almost forever!!!!!!!!!!!!!!!
Date published: 2008-05-31
Rated

1

out of

5
by
MarineMom51
from
Why not more matte shades?
As a working woman over age 50, it's inappropriate for me to be wearing shimmery or glittery shades to work. CG, have you forgotten about us older ladies and our need for a matte finish that will not only fill in our wrinkles but make us look good?
Date published: 2014-01-07
Rated

5

out of

5
by
planejane
from
Firecracker&Gold Sunset. =]
I bought Firecracker because a consultant reccomended it to me and I loved the colors. The colors make my green eyes POP! I also bought Gold Sunset, just on a whim, and the mid-tone shade makes my eyes SO bright. They're great!!
Date published: 2009-07-23
Rated

3

out of

5
by
tunafish
from
like ok
i really liked the mauveberry and now can't find it anywhere.sure hope you bring it back i used it for years.please let me know where i could find it.
Date published: 2013-01-13
Rated

5

out of

5
by
NaturalGal
from
I love this shadow. *sniff*
I have this 4-kit in Coffee Shop, Pure Romance, and Country Woods. I have pale skin and hazel eyes, and all 3 shade kits are not overpowering. Almost everytime I use them someone tells me how beautiful my eyes look. They're my favorite!
Date published: 2010-09-09
Rated

4

out of

5
by
Kristien
from
Simply flawless
These shadows come out smooth,not powdery or flaky when applying.I agree about not using all colors in the kit.I don't even use that one square.The only problem I had was the recommended colors.I bought them and the colors were subtle on my skin.
Date published: 2008-06-23