Crest Pro-Health Toothpaste Plus Scope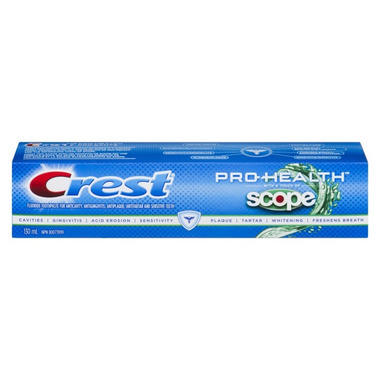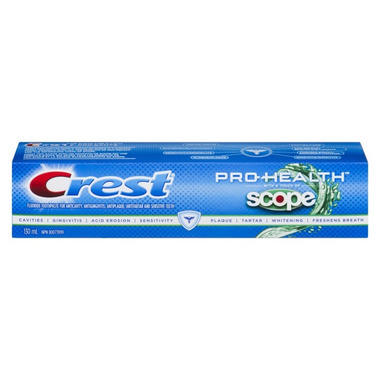 Crest Pro-Health Toothpaste Plus Scope
With Crest Pro-Health + Scope, the superior cleaning and thorough protection you expect from Crest meets the fresh taste of Scope. When you brush, the smooth formula provides a great brushing experience while removing plaque, strengthening enamel, and polishing away surface stains for healthier teeth and gums. And afterward, the refreshing flavor of Scope leaves you with minty fresh breath. Crest Pro-Health + Scope is fortified with stannous fluoride, so it can help protect the eight areas dentist check most: cavities, gingivitis, acid erosion, plaque, tooth sensitivity, tartar, whitening, and breath freshness.
Features:

Freshens - Take care of your teeth and gums while enjoying the refreshing minty flavor of Scope.
Protects - Stannous fluoride provides powerful protection against plaque, gingivitis, cavities, and gum disease.
Protects 8 Areas - Formulated to help you thoroughly clean the entire mouth for better oral health.