Cuppow Canning Jar Drinking Lid
Wide Mouth with Straw-TEK
Clear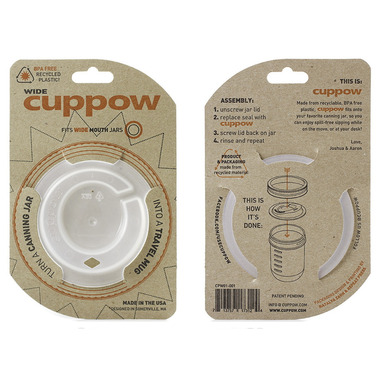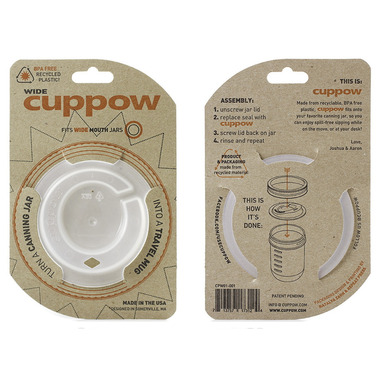 Cuppow Canning Jar Drinking Lid
Wide Mouth with Straw-TEK
Clear
Made from recyclable, BPA-free plastic, Cuppow fits onto your favourite canning jar, so you can enjoy spill-free sipping while on the move, or at your desk! It's a simple green alternative that does away with disposable cups and over-designed travel mugs.
This lid fits a wide mouth jar (diameter of 3"/7.62 cm) and features a diamond-shaped hole designed to fit a straw.
Features:
Product and Packaging made from 100% recycled materials
Jar and straw sold separately
Rigid plastic, with an FDA approved custom colourant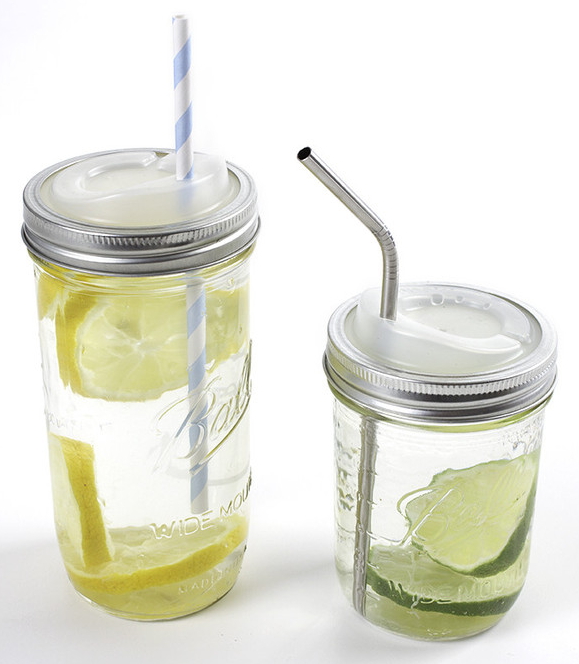 Charlene:
more than a year ago
This is SUCH a great alternative to throw-away cups. The fact that they come in both regular and wide mouth sizes makes them so versatile. The lid makes for little to no spill when bumped over and also keeps the bugs out of your beverage. The optional cup makes for easy salad making, just throw your greens in the jar, pour dressing in the cup and seal with a canning lid. When it's time to eat, pour your dressing on the greens and shake to mix. Works great as a creamer lid too! Many uses and so convenient!!
Page
1