Degree
Degree for Women Shower Clean Anti-perspirant Stick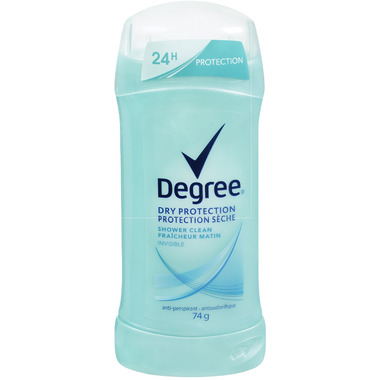 Degree
Degree for Women Shower Clean Anti-perspirant Stick
76 g
Degree for Women Shower Clean Anti-perspirant Stick
is rated out of
5
by
123
.
---
Description
Degree Women® Antiperspirant Deodorant Stick Shower Clean provides long-lasting, 24 hour odour and wetness protection. It is specially formulated to give you day long confidence, with all-day protection against sweat and odour. To use, turn dial to raise product. Apply a thin layer to underarms. Replace cap. Degree®. It won't let you down.

Features:
You can be confident that this antiperspirant will help you stay dry and be free to live your life all day
This antiperspirant for women features a Shower Clean scent to keep you smelling fresh with the bright floral scent of rose and jasmine blended with delicate fruit
Because human beings are made for movement, Degree® female antiperspirant sticks have been made for movement too. Thanks to MotionSense®, a breakthrough technology exclusive to Degree, the more you move, the more the powerful antiperspirant protects you from odour
The motion-activated formula contains microcapsules that sit on the skin, ready to burst into action as soon as you do
Bursts of fresh fragrance release onto your skin in reaction to the friction under your armpit, meaning that you smell your best when you're working your hardest – the ultimate motivator
With up to 48 hours of protection, Degree® female antiperspirant is reliable and hardworking, and it won't fade throughout the day
Rated

5

out of

5
by
bethanito
from
Thank God for Degree antiperspirants. I used to be really embarrassed, especially in the summer, by my armpit sweat, both the look at the smell. I have found that Degree helps keep the smell under control to the point where I miss it if I don't use it that day. It helps a lot with the sweat, too, although if I'm doing a really intense workout I can still sweat through it. That's to be expected though, and I don't fault Degree for that. Overall I am very pleased with Degree Antiperspirants, and I'm also happy that they have this shower clean scent because it's nice, light, and fresh smelling without being overpowering.
Date published: 2016-08-16
Rated

4

out of

5
by
dandy_123
from
I like Degree. I've been buying it for quite some time now. I feel like it helps me from have excess sweat although I believe I sweat more than your average person. This works differently for other people. I think it works alright, I like the scent, it makes me feel fresh. I only buy these when they are on sale. Recently, I bought a men's degree because I feel like I am slightly getting ripped off. Why does the women's deodorant have less of a net weight whilst the men's have more by a lot? For both the same price too. I would rather buy the men's, they smell just as good and would probably work better for me since I perspire more. I would probably only buy the Degree women if I randomly ran out.
Date published: 2016-08-18
Rated

5

out of

5
by
Anonymous
from
I love the fresh scent that Degree Antiperspirant has and it is discreet enough that no-one else smells it. It kept me dry from morning until night and that is hard to do in the summer heat. It just seems to last and last and I am never worried about smelling bad as long as I am wearing Degree. My husband also uses the men's version so Degree is made to keep your entire family dry!
Date published: 2016-08-16
Rated

5

out of

5
by
Anonymous
from
So usually when I purchase deodorant I either get dove or degree. I find that these products work for me. I usually go with whichever one is on sale. I love this because it actually works and it doesn't leave me feeling sticky. I do sweat a lot so this seems to keep me nice and fresh for the while day. Also it doesn't leave marks all over my clothes which is a bonus.
Date published: 2016-08-16
Rated

5

out of

5
by
Esra10332
from
Super convenient
(This review was collected as part of a promotion.) Super convenient and strong, I put a stick in my gym bag, office, and locker for easy access at any time. You don't need to worry about applying again again as this is a reliable stick that will last your whole workday or workout without worrying about body odour or soaking. Great scent too!
Date published: 2023-08-23
Rated

4

out of

5
by
Anonymous
from
Used to use this antiperspirant all the time. It works really well to stop the sweat and keep the odor down. The only thing I didn't like was that my armpits got itchy every now and then because you don't actually sweat. If you're looking for a great antiperspirant for worrisome situations, this will take one thing off your mind.
Date published: 2016-08-16
Rated

4

out of

5
by
ReddHead
from
This deodorant was pretty average in its effectiveness and the scent was a little too sporty/soapy for me. The big disappointment was the major white marks it leaves on clothes! So annoying if you change your mind about an outifit and change to something else. You land up doing a lot more laundry than is necessary.
Date published: 2016-08-16
Rated

3

out of

5
by
Anonymous
from
Degree antiperspirant stick can be the best and also the worst sometimes and for me, it's a case of worst. I really don't feel fresh for a long time and sometimes, I smell like old sweat and I really don't like that at all. I don't know what's the problem within my skin and this particular product, but never again.
Date published: 2016-08-15