Desert Essence Coconut Oil Mouthwash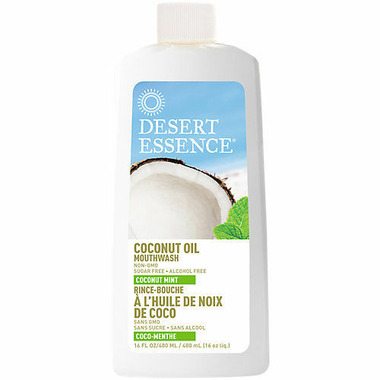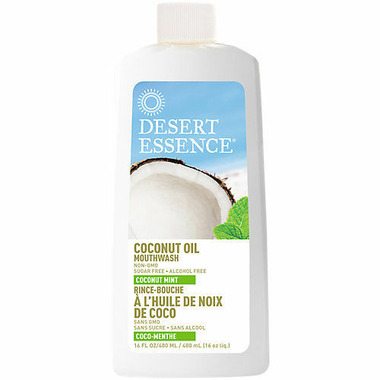 Desert Essence Coconut Oil Mouthwash
Providing complete care for teeth and gums, the Desert Essence Coconut Oil Mouthwash offers a refreshing blend of Organic Virgin Coconut Oil and Natural Mint Oils. Australian Tea Tree Oil helps defend against sugar acids while Aloe, known for its soothing properties, helps support gum health. Experience the sweet burst of mint with Peppermint and Spearmint Oils to keep your mouth feeling clean and extra fresh.
Pair with the Desert Essence
Dual Phase Pulling Rinse
to add the benefits of Oil Pulling to your dental routine in a convenient and refreshing new way. Also try with the Desert Essence
Coconut Oil Toothpaste
to help remove impurities from our mouth.
Features
:
Organic Virgin Coconut Oil is widely used to help remove impurities from the mouth
Australian Tea Tree Oil helps defend against sugar acids
Aloe, known for its soothing properties, helps support gum health
Ingredients
: Purified Water(Aqua), Glycerin, Polysorbate-80, Virgin Cocos Nucifera (coconut) oil*, Mentha Piperita (Peppermint) leaf/Stem Oil, Aloe Barbadensis Leaf Juice, Hamamelis Virginiana (Witch Hazel) Extract, Mentha Viridis (Spearmint) Leaf Oil, Piper Nigrum (Pepper) Fruit Oil, Melaleuca Alternifolia (Tea Tree) Leaf Oil, Magnesium Chloride, Zinc Citrate, Ascorbic Acid, Citric Acid, Phytic Acid, Calcium Ascorbate, Xylitol, Natural Flavor (Aroma) *Certified Organic
Natural, Non-GMO