Divine Health
Divine Health Instant Ketones Coconut Cream Flavour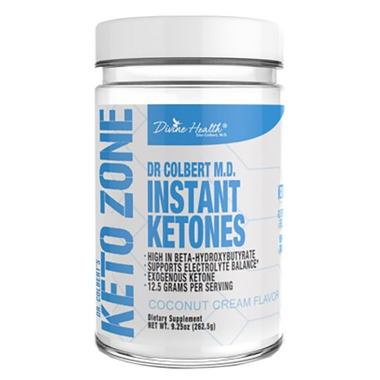 Divine Health
Divine Health Instant Ketones Coconut Cream Flavour
Description
Keto Zone's Instant Ketones are a premium mix of instant ketones that allow the body to jump into Ketosis. Instant Ketones is able to help in any fat-burning, or performance enhancing goals an individual may have and ensures optimal results.

Features:
Tasty Coconut Cream Flavor
Exogenous Ketones To Aid In Achieving Peak Performance Physically and Cognitively
High in Beta-Hydroxybutyrate Allowing Your Body To Burn Fat For Fuel Makes Entering A State Of Ketosis Easy
Suggested Usage:
As a dietary supplement; take 1 scoop daily with 6-8 oz of your beverage of choice or as directed by a health care practitioner. Best taken with a flavoured beverage to increase palatability.
Ingredients:
BHB Salts (Sodium beta-hydroxybutyrate, Calcium beta-hydroxybutyrate & Magnesium beta-hydroxybutyrate Potassium beta-hydroxybutyrate)...........12 g

Other Ingredients: Natural Coconut Flavor & Stevia Extract

Caution: If you are pregnant, may become pregnant, or breastfeeding, consult with your health care practitioner before using this product. Do not use if either tamper-evident seal is broken or missing. Keep out of reach of children

Highlights