Dove
Dove Deep Moisture Body Wash Hydration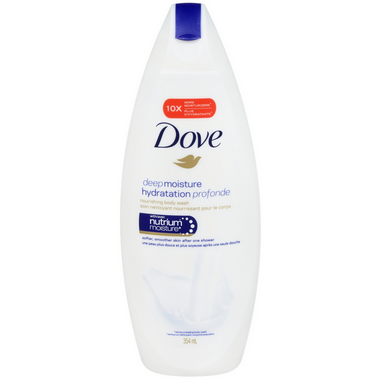 Dove
Dove Deep Moisture Body Wash Hydration
354 mL
Dove Deep Moisture Body Wash Hydration
is rated out of
5
by
1380
.
---
Description
Who doesn't like having soft skin? We all want to keep our skin looking healthy and well cared for, and it's much easier to make that a regular part of your routine if you've found a moisturizing body wash. That's the best way to feel confident that you're nurturing your skin right from the start of your day.
This moisturizing body wash from Dove combines NutriumMoisture with mild cleansers to help your skin retain its natural moisture. The caring, nourishing formula makes Dove Deep Moisture Body Wash a great body wash for dry skin too.
Dove NutriumMoisture technology is a blend of moisturizers and skin natural nutrients that help your skin to maintain its natural balance while you shower and deliver skin nourishment at the same time. This mild body wash helps to minimize skin dryness while nourishing deep into the surface layers of your skin, leaving you with softer, smoother skin after just one shower.
Dove Deep Moisture Body Wash creates a rich lather that replenishes your skin's nutrients while also leaving it clean and feeling cared for. For best results, just squeeze some gentle body wash onto a shower pouf or your hands and massage all over your body before rinsing thoroughly. Use in your daily shower for soft, smooth skin
Features
:
Dove Deep Moisture Body Wash gives you softer, smoother skin after just one shower
Moisturizing body wash minimizes skin dryness
NutriumMoisture technology delivers skin essential nutrients
Nourishes deep into the surface layers of the skin
Helps maintain your skin's moisture barrier as you cleanse
Mild, gentle formula is kind to your skin
Ingredients: Aqua, Cocamidopropyl Betaine, Sodium Hydroxypropyl Starch Phosphate, Lauric Acid, Sodium Lauroyl Glycinate, Sodium Lauroyl Isethionate, Hydrogenated Soybean Oil, Glycine Soja (Soybean) Oil or/ou Helianthus Annuus (Sunflower) Seed Oil, Sodium Chloride, Glycerin, Parfum, Guar Hydroxypropyltrimonium Chloride, DMDM Hydantoin, Stearic Acid, Citric Acid, BHT, Tetrasodium EDTA, Methylisothiazolinone, Iodopropynyl Butylcarbamatee.

Rated

5

out of

5
by
hayleysavanna
from
(This review was collected as part of a promotion.) First off, the packaging is sleek and lovely and the bottle fits nicely on my shower shelf. The scent of this product is both subtle and fresh, and even my boyfriend wanted to try it as it wasn't feminine or masculine... a scent for every-body. This Deep Moisture Body Wash did just that, gave my Canadian Winter skin life again! My skin is soo soft and the rough patches are diminishing with each use. I would highly reccomned this product to anyone as it is gentle on the skin, and works wonders! Thanks to Influenster and Dove for the complimentary bottle, in exchange for my honest review. Thanks for the #giftofgentle Dove Deep Moisture Body Wash
Date published: 2018-03-29
Rated

5

out of

5
by
momgoose
from
Thick, Moisturising and an Aroma = Love
(This review was collected as part of a promotion.) I love everything about this product. The smell, all flowery and soft smelling, plus it lingers on your skin for days after (my boyfriend told me a day and a half after my shower that he like my "skin smell). Don't have to use a lot of it to get a good lather, which means it lasts longer! To top it off, my skin felt amazing! Didn't even feel like I needed to use an after shower moisturizer (I did, because I do, but it didn't feel like I needed to). Highly recommend to anyone with really dry skin. Thank you for the opportunity to try this product for free! Will purchase in the future for sure!
Date published: 2016-04-14
Rated

4

out of

5
by
Emavilla
from
(This review was collected as part of a promotion.) I've tried a few different body washes from Dove and this is one I would probably repurchase. It's moisturing enough that my skin doesn't feel tight or dry after showering but not overly moisturing that I feel greasy or like there's a film on my skin after rinsing. The smell is pleasant, like a typical shampoo-type scent, and is not too strong/ lingering. It has a creamy texture as opposed to gel and lathers nicely. A bottle lasts a while as well. I like this formula WAY more than their foam wash which I find too drying! I recommend this if you want a good everyday, no frills, moisturing body wash.
Date published: 2017-09-29
Rated

5

out of

5
by
mboasie
from
(This review was collected as part of a promotion.) I love this dove body wash. It really does leave my skin feeling smooth and moisturized. It also smells really nice and what I like to call the dove smell (just generally how you would think their product would smell like). It is not overpowering, because I get headache from anything with super strong smell, so that's a plus. The consistency is like a body lotion, thick and creamy, but it does lather well and thin out when you add some water, like other normal body washes do. I will definitely keep using it especially for the winter, as my skin gets quite dry in the colder months.
Date published: 2017-09-29
Rated

4

out of

5
by
buttons13
from
Soft skin
(This review was collected as part of a promotion.) I was lucky to receive this as a free product to use and review. I have used dove body wash in the past and will continue to use it. I wasn't in love with the smell, it didn't have much of one it just smells clean, which isn't a bad thing if you plan to put on lotion or perfume etc after your shower. I like it because it leaves my skin feeling soft and it has a rich lather so it lasts quite a while. I can have sensitive skin and I didn't have any issue with this. Maybe if you prefer a more scented product this wouldn't be for you but the Dove line in general is always a good bet.
Date published: 2016-04-15
Rated

5

out of

5
by
ybbowen
from
Super Moisturizing and Smells Great
(This review was collected as part of a promotion.) After trying many Dove products, I have come to realize that they all smell great, but I really liked this one. It's a light fresh scent without being heavy, and it doesn't stick with you after the shower. It also isn't overly feminine--my boyfriend also used it and also liked the scent. The body wash was really moisturzing and lathered really really well--a little will go a long way. I also have eczema on my body and this didn't irritate it at all, although none of the Dove products do. I would highly recommend this product for anyone looking for a really moisturizing body wash.
Date published: 2016-04-01
Rated

5

out of

5
by
scarasuco
from
Great Product
(This review was collected as part of a promotion.) I received the Dove Deep Moisture Nourishing Body Wash for free from Glam Sense to review. I love body washes to I was excited to try this product. I was pretty impressed with it. The scent is lovely and it lathers up a lot. The lather is very important to me because you use less product over time. I felt really clean and fresh afterwards but I can't really say if I felt moisturized since I usually follow with moisturizer. I didn't have that feeling of my skin being tight so it definitely itely not drying. Overall, this is a great product and I would purchase it in the future.
Date published: 2016-03-24
Rated

4

out of

5
by
zenitshu
from
(This review was collected as part of a promotion.) I never thought I would ever get addicted to a body wash. I always just buy whatever is in the market that I've never tried before, until I've tried this. it makes my skin soft and feel moisturized, especially in the winter. the smell is typical dove scent, not too strong that it is offensive(for people with sensitive nose like mine), and the thick creamy texture is great. I'm such a lazy person in regards to applying body lotion, even though I get dry and itchy a lot(allergic to cold), so this product definitely helps me go through the season since I got less dry and itchy, and it's great in the summer too.
Date published: 2017-10-03