Dove
Dove Men+Care Clean Comfort Body + Face Wash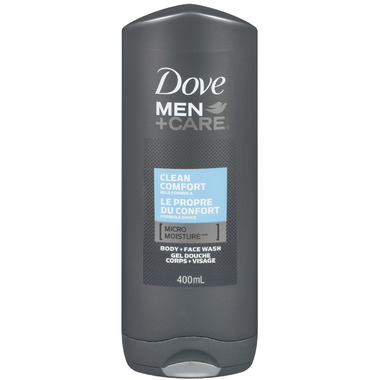 Dove
Dove Men+Care Clean Comfort Body + Face Wash
400 mL
Dove Men+Care Clean Comfort Body + Face Wash
is rated out of
5
by
1313
.
---
Description
Looking for a refreshing body wash for men that leaves your skin cleansed and hydrated? Dove Men+ Care Clean Comfort Body Wash uses a dermatologically tested and hypoallergenic formula to lock in your skin's natural moisture and help deliver total skin comfort. The result? Balanced, hydrated and cleansed skin that feels healthy and strong.

Features:
Using Dove Men MicroMoisture technology – which activates on lathering – this moisturising body wash for men helps to maintain your skin's hydration levels
Unlike some regular body washes that can strip your skin of moisture, this Dove Men+Care body wash helps to replenish lost moisture and hydrate your skin
Mild enough for daily use, you can even use it on your face or as a men's body wash for dry skin – helping to nourish and protect against dryness
Add this Dove Men+Care body wash to your daily routine and enjoy the refreshingly clean scent and lightweight formula every time you shower
Simply squeeze about a half a palmful of the Dove Men+Care body wash into your hand and work it into a lather to activate the MicroMoisture technology into a light lather
Rub all over your body and rinse thoroughly
Moisturize your skin daily with Dove Men+Care Clean Comfort Body Wash and enjoy skin that feels strong and cleansed
Rated

3

out of

5
by
skillzo1
from
Not enough Soap.
I was anxious to try this stuff as almost all body washes leave my skin very dry after showers. I always have to put lotion on to be comfortable. This dove mens stuff does leave my skin slightly more moisturized after a shower then some other brands. Nothing beats lotion though after the shower. It also DEFINATLY doesn't make enough suds or last long at all. I find myself putting the soap on the pad 2 or three times before i can finish washing my body, and on top of that the bottle is very smalll compared to others. Same thing with the bar of soap. Still gunna look for that inferior body wash for us dudes. Add more moisture and make it last longer and i will buy it over and over.
Date published: 2013-12-31
Rated

1

out of

5
by
GM01
from
Turned a differentiating product into generic one
I've used the previous version of the product for years, and it was the only one that worked for me -- especially in the colder months, when my eczema flares up. The new formula just does not work. It's like any generic body wash out there. This used to be your differentiating product: for people with dry, allergic skin, in particular, this one was among the very few (if any) products that worked. If you want to change packaging to keep it fresh -- sure; but don't change the formula because of some commercial motives when you have loyal customers who depend on it. Bring the previous formula back.
Date published: 2021-11-13
Rated

1

out of

5
by
nitefury
from
[This review was collected as part of a promotion.] I have used this product for many years and was extremely satisfied until this past year. It used to have a nice gel-like texture, but this year the product is heavily diluted and as other reviewers have noted, it simply runs out of the inverted bottle packaging onto the shower floor. Waste has gone way up (oh gee, that must mean my consumption has gone up too! -- who is that good for?). Classic big company thinking -- stretch the product to cut costs and drive up sales. This was not based on an isolated single purchase either. Multiple bottles from different stores. Shame!
Date published: 2019-01-22
Rated

3

out of

5
by
Bradley1
from
New Formula
I used to absolutely love this body wash with the previous formula and scent! That scent was my favorite of any of the others out there and the wash really helped with my dry skin. I've consistently purchased this product since around 2014-2015 and the formula hasn't changed during that time up until recently (to my knowledge). As far as the new formula - I don't mind it for cleanliness - it's ok, but nothing impressive. Definitely not at all a fan of the new scent however. Smells more like just plain soap.
Date published: 2021-10-15
Rated

1

out of

5
by
David722morgan
from
Very watered down... They changed the formula
I used to LOVE this body wash. When I used to squirt this in my hand it used to be a thick rich soap, now it's like water. Also it seems they changed the odor. Im really disappointed and now looking for a different body wash as a replacement. Man it really doesn't make sense to change a good thing. Dove... if you are listening.... I am one person who took the time to look into this issue and found others that agree with me. Just think of all the other customer you are going to lose because of this. I would recommend to put it back to the way it used to be. Signed One bummed customer
Date published: 2016-05-02
Rated

1

out of

5
by
TheGBH
from
New formula a real disappointment
I used this for many years and loved it but the new formulation is just awful. The scent, which used to match the Clean Comfort deodorant well, now smells very different and chemical-like, almost like plastic. It also feels different doesn't seem to lather as well. Why did you make this product so much worse, it was a huge mistake.
Date published: 2022-01-14
Rated

1

out of

5
by
WhySoWatery
from
Watery Abomination
Dove, whatever you have done to water down your product is about to cost you a ton of customers. Everyone I've spoken to about this says the same thing: "Why is it so watery all of a sudden?!" We're all changing brands after several years supporting your product. Such a shame, because we used to love it.
Date published: 2017-08-24
Rated

5

out of

5
by
Tree
from
Feel Cleaner
(This review was collected as part of a promotion.) For a man and how dirty and grimy I get and I have oily skin it gets me feeling cleaner than anything I have ever used. It gets in my pores of my hands and gets deep down dirt. I like it because it is not over scented but smells great, fresh! This is important to a guy I dont wanna smell like flowers, just clean. As far as lather power it gets an A1 which is really saying something g because of the grime and oil I get on my body it lathers easily and lots of it. I wont use anything else now. Used to thi I I'd be embarrassed to say I use Dove but now am proud of it. GREAT PRODUCTS
Date published: 2020-01-29