Dove
Dove Shea Butter with Warm Vanilla Body Wash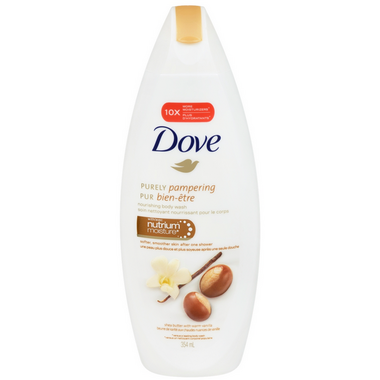 Dove
Dove Shea Butter with Warm Vanilla Body Wash
354 mL
Dove Shea Butter with Warm Vanilla Body Wash
is rated out of
5
by
151
.
---
Description
Dove Purely Pampering Shea Butter with Warm Vanilla Body Wash is designed to care for your skin and indulge your senses. This pampering Dove body wash wraps you in rich, creamy lather, infused with the warm scent of shea butter and vanilla, for a soothing sensory experience that will leave you feeling truly relaxed.

Features:
This gentle formula, enriched with NutriumMoisture, delivers skin-natural nutrients and helps your skin to retain its natural moisture
Purely Pampering: treat yourself and your skin every day
Dove Purely Pampering is a range of skin cleansing products designed to nourish your skin and pamper your senses every single day
With a suite of wholesome, skin-loving ingredients, the rich lather and warm scents create a pampering experience that will leave you and your skin feeling balanced and renewed
Dove body wash uses 100% sulphate free cleansers and is paraben free
Dove transforms your daily cleansing routine and nourishes your skin after every shower
The best body washes leave your skin feeling clean and nourished after you shower. With Dove body wash, you can transform one of your daily rituals into an act of care and keep your skin beautiful and hydrated
For best results, squeeze this moisturizing body wash onto a shower pouf or your hands and smooth over your skin, enjoying the warm scent, before rinsing away with warm water.
Rated

5

out of

5
by
LCBruce83
from
So Luxurious!
(This review was collected as part of a promotion.) I was really excited to receive this product in the mail, and started using it immediately. I was indifferent to the scent (maybe a bit too much shea and not enough vanilla for my tastes), but I could tell I was going to fall in love with it before it even touched my skin by the thick luxurious lather. As I rubbed it in, the consistency of the product changed from a thick lather to what felt more like body butter - I could tell immediately that their claim "makes your skin softer and smoother after just one shower" was NOT an exaggeration. I will definitely purchase and continue to use this product.
Date published: 2016-03-18
Rated

4

out of

5
by
svetlanaV
from
(This review was collected as part of a promotion.) I like Dove Purely pampering shea butter with warm vanilla Body Wash for the light almond fragrance with hint of vanilla. This body wash is creamy and easy to lather, very economical. My skin is soft and smells lovely after using it. It's sulphate free But it's like a regular body wash as the shea butter and sunflower oil way after the main ingredients, as you should know only 5-7 first products in the list of ingredients are most important to look at and the main components of product. I will recommend it as a lovely fragrant body wash but not natural body wash I received it free to try and review
Date published: 2018-05-29
Rated

5

out of

5
by
robynleigh
from
(This review was collected as part of a promotion.) I'm a big fan of Dove's new Purely Pampering body wash. It left my skin feeling fresh and fragrant all day long. The shea butter with warm vanilla was not overpowering, but rather just the right amount of scent. It also worked really well in the shower, and lathered very nicely. After just a few uses, my skin already felt smoother and softer. I will definitely buy this body wash again, and will be recommending it to my friends and family, I think next time, I'll try a new scent, perhaps the Coconut Milk with Jasmine Petals. #TrytheDoveExperience #PurelyPampering #Dove #gotitfree thanks #chickadvisor
Date published: 2018-05-08
Rated

5

out of

5
by
WinterTropical
from
(This review was collected as part of a promotion.) An instant foam, this Dove body wash formula contains something called NutriumMoisture technology, with skin natural nutrients that help protect your skin so it stays hydrated. Nourishing deep into the surface layers of the skin, Dove Shower Foam Shea Butter with Warm Vanilla Foaming Body Wash helps strengthen your skin's moisture barrier, leaving it looking and feeling healthier. With a bouncy, airy foam, Dove Shower Foam Shea Butter with Warm Vanilla Foaming Body Wash rinses off quickly, leaving behind beautifully clean, deeply nourished surface skin, and the smell is delicious you will love it like I do!
Date published: 2018-06-12
Rated

5

out of

5
by
Supernovarrh
from
(This review was collected as part of a promotion.) I am so incredibly impressed with this body wash! Forever, have I been searching for a body wash that actually hydrates the skin, and this is it! It lathers up on the skin really nicely and definitely cleans without stripping the skin. Afterwards, I can definitely get away without moisturizing! This is from now on going to be my go-to body wash! Best of all is that you can get this product in the drugstore for a great price! Also, the warm vanilla scent is very mild, so those who are sensitive to scent need not worry! I received this product complimentary from Chick Advisor.
Date published: 2018-05-23
Rated

5

out of

5
by
tnorrad73
from
(This review was collected as part of a promotion.) One of the best body washes out there with all different kinds of scents to choose from. Not only does it leave your body feeling smooth and refreshed but you'll smell so good all day. The scent literally stays on your skin. I'm not kidding. This is one of the only body washes that I really feel CLEANS your body. It gets into all of your pores where dirt is kept and cleans it and moisturizes it at the same time. I even use this for my legs to shave. It's such a good little conditioner for my legs. It's a great buy and it's cheap for the great quality you're getting.
Date published: 2018-04-15
Rated

1

out of

5
by
cbea
from
Smells Weird
The first whiff of the product, which I did in the store before purchase, has hints of vanilla and shea. However, no matter how much or little I used, it does not smell like vanilla or shea butter once it's lathered up. The smell is intense and overwhelming in the shower (not at all pampering!) and lingers on my skin. It smells more like a combination of sandalwood and baby powder... I'm incredibly disappointed and frustrated. The consistency is alright. I used it with a loofah (to help gently exfoliate), so it was easy to lather up and distribute.
Date published: 2017-07-19
Rated

5

out of

5
by
HarloweHearts
from
Thick and super moisturizing
(This review was collected as part of a promotion.) I received a free sample of this product to review, and I was very happy with it, especially given how dry my skin is this time of year. The body wash was very thick--it's almost the consistency of moisturizer, so I knew it was going to help restore some moisture to my skin. Despite how thick it was, it lathered up quite well and has a light, pleasing scent. Not at all overwhelming. It washed away well; I didn't feel any soap residue left behind. My skin was so moisturized afterwards that I didn't even need to apply any lotion after my shower like I usually do. Given how soft my skin has been since using this, I will continue to purchase it.
Date published: 2016-04-10