Druide
Druide Eco Trail Multi-Purpose Soap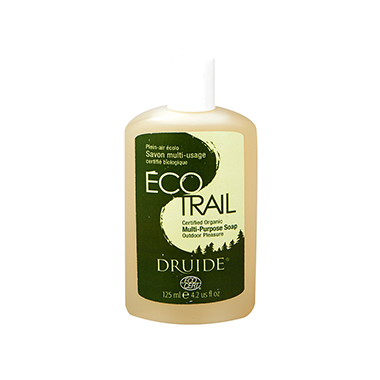 Druide
Druide Eco Trail Multi-Purpose Soap
Description
This certified organic, multi-purpose concentrated soap is suitable for any your outings and hikes.

Features:

Biodegradable without phosphates

Enticing odor without Citronella

Use while at the cottage , camping , picnics,trips and everywhere else!

To use on yourself and also to clean all usual objects

100.00% of the total ingredients are from natural origin

12.51% of the total ingredients are from organic farming

Usage: Wash and rinse thoroughly and repeat if necessary. A few drops on the skin or hair. Cleans dishes, linens or surfaces. A few drops in a cup of water to wash your dog. At the cottage, camping, picnic or on vacation,use it anywhere and everywhere. Wash yourself or any common object.
Highlights