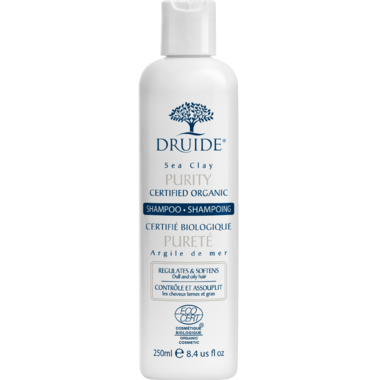 Description
DRUIDE Purity Shampoo will balance and regenerate all dull and oily hair.
Associated with many active vegetal extracts, sea clay will effectively control the sebum activity to offer clean and beautifull look.
Benefit its strong content in antioxidant agent, this shampoo will protect the hair against premature aging and external aggression that tarnish and weaken the hair fiber.
This rich classic formula includes natural mineral salts to rebalance scalp oils and to generate shine and suppleness, even for long hair.
The unique sea clay is pure and untreated (found underground from northern 43 millions years old source).

Holistic formula: Active extracts of Apple vinegar, sea Clay from Manicouagan and Canadian Goldenrod, Moringa proteins and organic essential oils of Ginger, Rosemary, Lavandin, Cypress and Thyme.
Certified organic by ECOCERT Guaranteed NO alcohol, NO cocamide NO sulfate (SLS), NO allergen GLUTEN
Highlights