Earth Mama Calming Lavender Deodorant
For Pregnancy, Breastfeeding and Sensitive Skin
85 g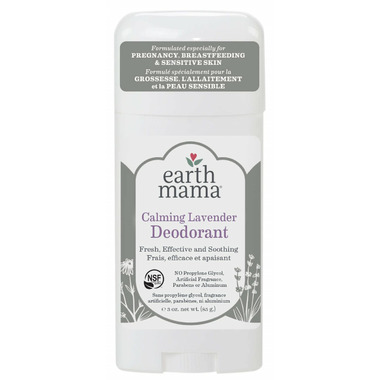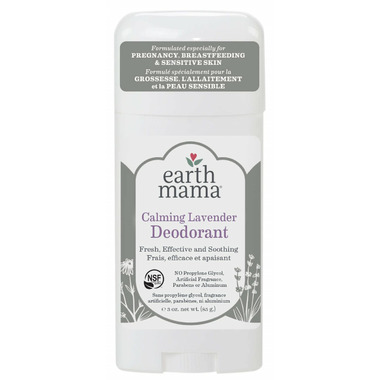 Earth Mama Calming Lavender Deodorant
For Pregnancy, Breastfeeding and Sensitive Skin
85 g
Earth Mama Calming Lavender Deodorant was formulated for extra sensitive skin with the perfect balance of baking soda and magnesium; just enough to work, not enough to hurt. Lavender starts the calm where stress shows up first: your armpits. This stick contains organic lavender, calendula and coconut oil, formulated especially for sensitive skin, pregnancy and breastfeeding, and best of all, it's effective for everyone. This product has only clean, fresh ingredients, without any of the stinky ones!
Features:
No propylene glycol, artificial fragrance, parabens or aluminum
NEW from Earth Mama (formerly Earth Mama Angel Baby), formulated especially for sensitive skin, pregnancy, and breastfeeding
Dermatologist tested and clinically tested for irritation
Better than natural – organic! NSF/ANSI 305 Certified by Oregon Tilth
Directions:
Wash underarms well, dry thoroughly, apply your new favourite deodorant.
Ingredients: Organic Coconut (Cocos Nucifera) Oil, Organic Corn (Zea Mays) Starch, Candelilla (Euphorbia Cerifera) Wax, Baking Soda (Sodium Bicarbonate), Organic Beeswax (Cera Alba), Magnesium Hydroxide, Organic Arrowroot (Maranta Arundinacea) Powder, Tocopherol, Organic Lavender (Lavandula Angustifolia) Oil, Organic Calendula (Calendula Officinalis)