Earth Mama Organics Organic Nipple Butter
For Breastfeeding and Dry Skin
60 mL
Earth Mama Organics Organic Nipple Butter
is rated out of
5
by
12
.
Clinically tested, hospital recommended, Certified by Oregon Tilth and Non-GMO Project Verified, Earth Mama Organics Organic Nipple Butter is a lanolin-free, zero toxin calendula nipple cream for breastfeeding mamas, and anyone with dry, cracked skin. It's vegetarian and safe for mama and baby, no need to wash it off before nursing! Apply after each feeding, or as needed on lips, cheeks, heels and elbows.

Features:
Certified by Oregon Tilth
Non-GMO Project Verified
Clinically tested, Hospital recommended
Lanolin-free
No need to wash it off before nursing
Natural
Organic
Gluten Free
Ingredients:
Organic Olive (Olea Europaea) Fruit Oil, Organic Beeswax (Cera Flava), Organic Cocoa (Theobroma Cacao) Seed Butter, Organic Shea (Butyrospermum Parkii) Butter, Organic Mango (Mangifera Indica) Seed Butter, Organic Calendula (Calendula Officinalis) Flower Extract.

Please Note: Earth Mama Angel Baby has gone through packaging and name change. You may receive the original packaging as shown below.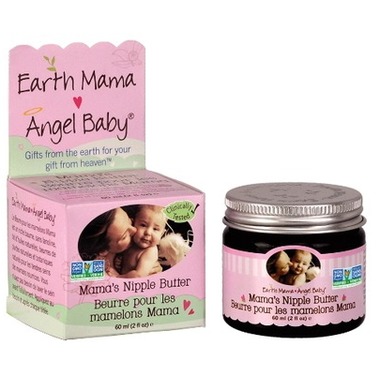 Other Earth Mama Organics Products
Rated

5

out of

5
by
Cara22
from
This is the second time I've purchased this cream while on my breastfeeding journey and I am still blown away at how amazing it is! It smells like chocolate, soaks in well and I don't have to be worried that my babe is getting unnecessary or potentially harmful chemicals/substances while feeding! It helps keep your skin healthy and supple (I've used it when my babe was a newborn AND while he was teething and his teeth started scraping my nipple) both times it offered beautiful relief!! Then when you're not longer breastfeeding, it can be used as Chapstick, cuticle cream, heavy duty moisturizer for hands/feet/knees/elbows etc I love to use it on my tattoos to help keep them looking their best! So many possibilities for this cream so you don't have to throw it out!!!
Date published: 2020-09-10
Rated

5

out of

5
by
Deb
from
Amazing balm
I was so impressed by reviews of this product that I decided to try it on my severly dry, cracked hands. My skin gets so dry that it just splits open. In spite of coating my hands continuously with moisturizer. When I use this balm at night, it absorbs and heals my sore hands. It's the best balm I've ever used!
Date published: 2021-05-07
Rated

5

out of

5
by
April
from
Saved breastfeeding for me!
As a first time mom who exclusively pumps I was having pain and considering switching to formula. Was using lanolin cream to no avail, then found this and what a difference! Thanks to this butter I have pain free pumping and confident that there are no worries about any ingredients.
Date published: 2021-02-24
Rated

5

out of

5
by
Michelle
from
My favourite!
This is my favourite nipple butter! I keep buying it as gifts for new moms because I loved it so much. After I didn't need it anymore for breastfeeding, I just started using it on my cuticles and any cracked or dry skin I had. Highly recommend!
Date published: 2020-06-02
Rated

5

out of

5
by
Nicole
from
saved my nipples!
As a new mom, this butter felt really good after each application. I got nipple trauma when I began breastfeeding my daughter and this provided the relief I needed. As mentioned by others, feels good on chapped lips, too! Definitely recommend
Date published: 2020-11-23
Rated

3

out of

5
by
Kerri
from
Smells great
Nice fragrance and texture is smooth (vs. sticky nature of Lanolin). However, I find it less protective of sore nipples. Might be good for someone just trying to prevent soreness or cracks but not for treating them.
Date published: 2020-06-22
Rated

5

out of

5
by
Cancan
from
Must have!
I absolutely love this stuff! Just a little goes a long way and feels fantastic. I use it after every pumping session to relive any discomfort and keep from getting dry and cracked. it smells great too!
Date published: 2020-08-16
Rated

5

out of

5
by
Romashka
from
Great texture and effect
I absolutely love this butter. It is not too sticky (compared to lanolin based creams), but cures the nipples much better than lanolin. At least it works for me. Oh, and yes, works for lips as well.
Date published: 2020-02-04