Earth Mama Organics Organic Perineal Balm
Cooling Comfort for Pregnancy and Postpartum Relief
60 mL
Prenatal and postpartum hemorrhoids, postpartum vaginal swelling and bruising, perineal tears, episiotomies... New mamas and mamas-to-be got bottom problems!
Naturally cooling, hospital recommended Earth Mama Organics Organic Perineal Balmsoothes discomfort with 100% natural herbs, like St. Johns wort, Yarrow, Witch hazel, and Calendula. Certified by Oregon Tilth. It's not JUST for mamas - great for anyone with bottom problems! Store it in the refrigerator and apply often. You'll be sitting pretty in no time.*
Features:
Certified by Oregon Tilth
Toxin free, rated 0 for toxins on EWG's Skin Deep Cosmetic Database
No parabens or artificial preservatives
No petroleum by-products
Use with Postpartum Bath Herbs and New Mama Bottom Spray for even more soothing comfort!
Ingredients:
Organic Olive (Olea Europea) Fruit Oil, Organic Shea (Butyrospermum Parkii) Butter, Organic Beeswax (Cera Flava), Organic Jojoba (Simmondisia Chinesis) Seed Oil, Organic Lavender (Lavandula Angustifolia) Oil, Organic Peppermint (Menta Piperita) Leaf Oil, Organic Witch Hazel (Hamamelis Virginiana) Leaf Extract, Organic St. John's Wort (Hypericum Perforatum) Extract, Organic Calendula (Calendula Officinalis) Flower Extract, Organic Yarrow (Achillea Millefolium) Extract

Please Note: Earth Mama Angel Baby has gone through packaging and name change. You may receive the original packaging as shown below.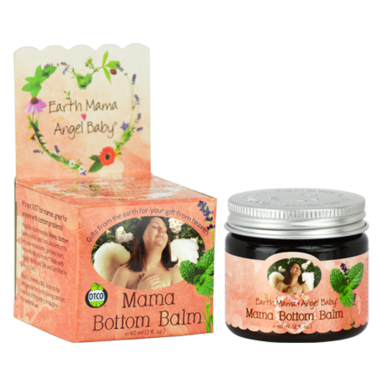 Similar Prenatal & Postnatal Skin Care
Other Earth Mama Organics Products