Earth's Care Acne Treatment Mask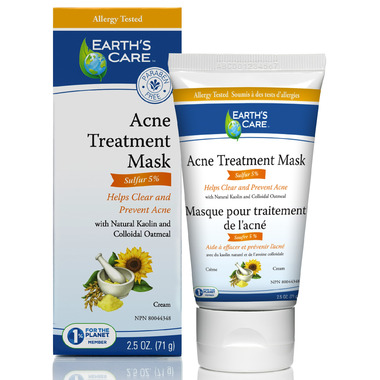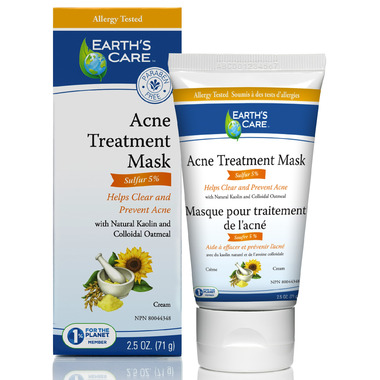 Earth's Care Acne Treatment Mask
Earth's Care Acne Treatment Mask utilizes the powerful anti-acne agent Sulfur to cleanse pores and start clearing blemishes and pimples on contact. Formulated to reduce irritation as well as prevent future breakouts, the proprietary blend restores a smooth and healthy complexion.
Features:
​Colloidal Oatmeal helps relieve minor skin irritation and itching
Sulfur dries and helps treat and clear up acne pimples and allows skin to heal
Sulfur also penetrates pores to help control (reduce) acne pimples
Sulfur helps prevent new acne pimples from forming
No Animal Testing, No Parabens, No Artificial Colors or Fragrances, No Petrolatum, No Phthalates, Allergy Tested, Non-Comedogenic (will not clog pores)
.Medicinal Ingredients:
Kaolin 6%, Sulfur 5%, Avena sativa (Colloidal Oatmeal) (seed) 3%

Non-Medicinal Ingredients:
Butyrospermum parkii (Shea) Butter, Helianthus annuus (Sunflower) Seed Oil, Glycerin, Purified Water, Bentonite, Citric Acid, Potassium Sorbate, Xanthan Gum, Glyceryl Stearate, Sodium Stearoyl Glutamate, Cetearyl Glucoside, Hydrogenated Castor Oil, Phenoxyethanol

Brittany:
more than a year ago
I've been using this for a while now as a spot treatment. I wouldn't say it's a miracle worker, however it has helped control my breakouts when I apply daily. It's also very gentle on my sensitive skin. Make sure to close the lid properly or else it will dry out! If using as a spot treatment, this tube will last a long time and is a good alternative to other chemical filled acne treatments. I would buy again!
Page
1