Eco-Dent ExtraBrite Tooth Whitener Baking Soda Toothpowder Dazzling Mint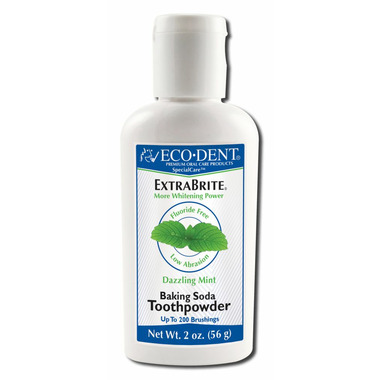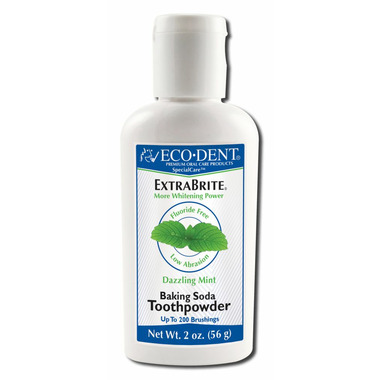 Eco-Dent ExtraBrite Tooth Whitener Baking Soda Toothpowder Dazzling Mint
Eco-Dent ExtraBrite Tooth Whitener Baking Soda Toothpowder can be used for healthier looking teeth and gums! This toothpowder neutralizes mouth acids, lowers abrasivity, and cleans teeth & freshens breath without flouride.

For a great smile, brush with ExtraBrite twice daily for 2-3 weeks.

To Use: Apply small amount to moistened toothbrush. Brush as usual. Not
recommended for children under 12.

CAUTION: Some individuals may be sensitive to ExtraBrite's powerful oxidizing
whitener. If gums become sensitive, decrease or discontinue use.
For a great smile, brush with EXTRA-BRITE twice daily for 2-3 weeks. Then
maintain your new smile with ECO-DENT DAILY CARE.

Ingredients: Sodium Bicarbonate (Baking Soda), Tartaric Acid, Sodium Methyl Cocoyl Taurate, Calcium Peroxide, Dicalcium Phosphate Dihydrate, Calcium Carbonate, Magnesium Carbonate, Sea Salt, Hydrated Silica, Mentha Piperita (Peppermint) Oil, Menthol, Anethole, Cyamopsis Tetragonoloba (Guar) Gum, Commiphora Myrrha (Myrrh) Resin Extract.