ECOlunchbox Blue Water Bento Seal Cup Trio
Plastic-free and leak-proof, the Seal Cup™ Trio is a three-piece set ideal for packing a variety of foods and keeping them separate. The containers are nesting, so you can pack up to a total of 5 cups of food in the morning and after you've eaten you can compactly tote them home by nesting each container inside the other. The non-toxic Seal Cup Trio makes your lunches greener and our oceans cleaner by keeping dangerous plastics out of your lunch and our oceans.

Product Dimensions:
Large container measures 4.75" diameter by 2.25" tall. Capacity is 20 oz. (2.5 cups). Tare weight is 4.4 oz.
Medium container measures 4.1" diameter by 2.1" tall. Capacity is 12 oz. (1.5 cups). Tare weight is 3.1 oz.
Small container measures 3.5" diameter by 2" tall. Capacity is 8 oz. (1 cup). Tare weight is 2.1 oz.
Features:
Total set capacity 40 oz. (5 cups)
Total set weight 9.6 oz.
Non-toxic silicone lid and type 304 stainless container are free of estrogen-mimicking chemicals commonly found in plastics like BPA, BPS, and phthalates
All parts are dishwasher and oven safe. Not for use in the microwave.
Steel and silicone container is lighter than glass containers and nonbreakable.
Made responsibly in China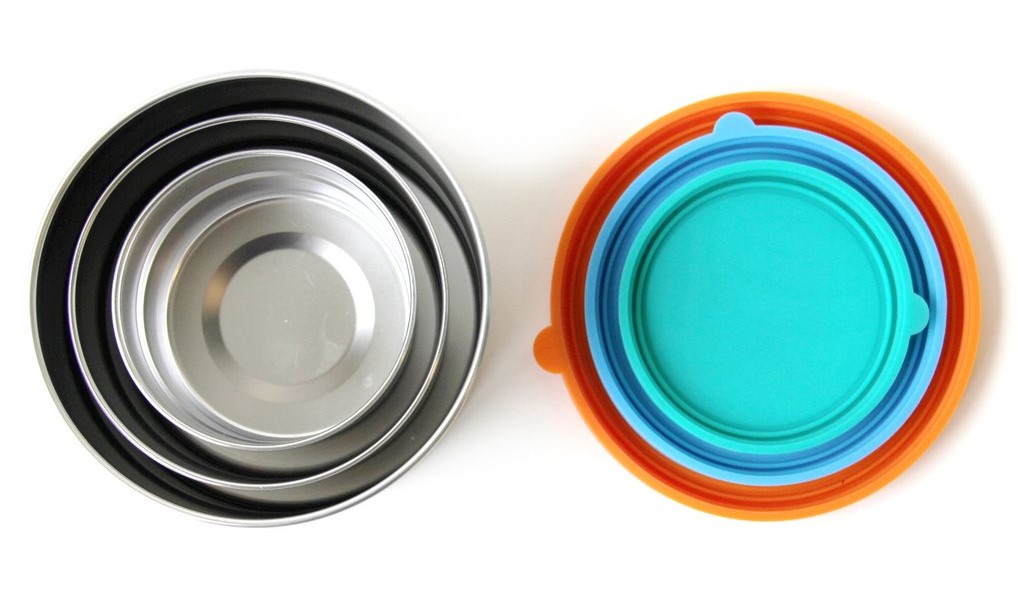 Similar Food Containers & Bento Boxes
Other ECOLunchbox Products