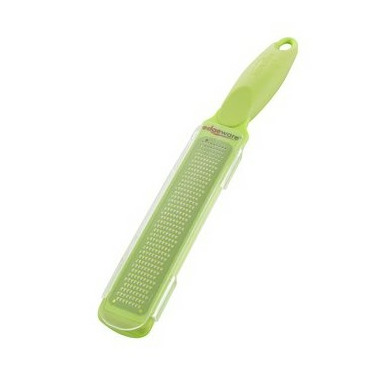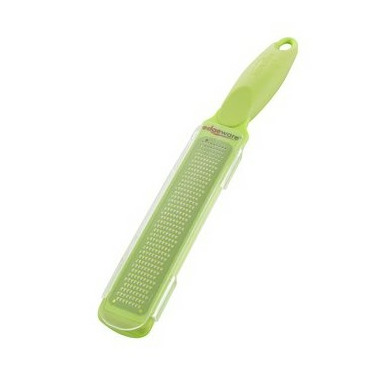 This zester takes zesting to a new level with its innovative design and features. The V-etched Zester blade is made up of over 300 tiny V-shaped teeth and is covered with a non-stick coating. The food-approved coating allows the zester to smoothly glide across the surface of all types of citrus, while finely zesting the outer layer of skin and not the bitter pith.
The Better Zester includes a "fresh zest" storage container with squeegee. This additional accessory gathers the fresh zest as it is grating and the squeegee helps remove the moist zest from the back of the blade. The ergonomically shaped kitchen tool features a non-slip tip and soft touch handle as well as a reusable protective cover.

Features:
Patent Pending V shaped etched teeth
Stainless steel blade with non-stick coating
Fresh zest storage container with unique squeegee for easy zest removal
Non-slip end piece, not non-scratch
Cover for storage
Hand wash
Designed in the USA
Arlene:
more than a year ago
*( I thought, I had previously left a five stars review for this amazing zester..but since it did not appear after some time.. here goes again .) I am a foody type person. I own several zesters / graters.. but, this one it the best ever !!! Used by Food Network chefs ( where I first spotted it ). Well made.. with sturdy ergonomic handle in soft to the touch silicone. Has clear measure marks on collecting box.. which slides onto the back. Razor sharp blades.. with safety to the touch design. Just an all around top notch product. Thanks Well.ca .. for offering this fabulous zester !! It shaved my lemon zest in seconds.. with little to no effort and the best resulting pile of zest.. that I have ever achieved.. using previous zesters.
Arlene:
more than a year ago
As a foodie type.. I own several graters and zesters. This is by far.. the very best zester for citrus.. ginger etc.. that I have ever used or owned. Ten stars would not be enough. Love the clear measuring container which slides on the back.. if wished. The curve and style..of the razor sharp stainless blades .. exceptional !!! Nice feel with ergonomic handle.. of what seems like strong silicone material. I love.. love this one !!!
Page
1