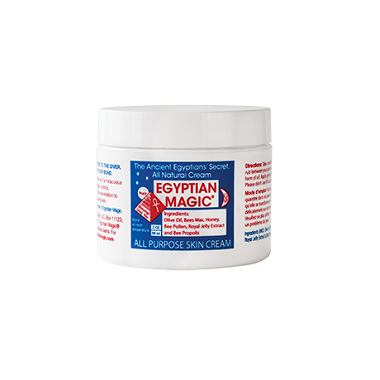 59 mL
Egyptian Magic All Purpose Skin Cream Pocket Size
is rated out of
5
by
16
.
---
Description
For more than 20 years Egyptian Magic has been blending powerful ingredients using their unique, proprietary process based on a formula that was created thousands of years ago in the land of the Pharaohs.
The result is a luxurious cream with moisturizing and nourishing properties. Legendary among celebrities, the fashion industry, even doctors and hospitals.
Multi-purpose:
Face moisturizer
Makeup primer
Hydrating face mask
Lip Balm
Eye cream
Makeup remover
After-sun
Scars
Itching, rashes, minor burns relief
Soothing and treating skin irritations
Eczema and Psoriasis
After-shave
Hair Treatment
Hand and cuticle cream
Body cream
Cracked heels and elbows
Vaginal moisturizer and lubricant
Massage balm
Tattoo aftercare
Pregnancy: stretch marks, cracked nipples
Baby cream, diaper rash
Celebrity Endorsements:

Eva Mendes
Lauren Conrad
Kate Hudson
Rooney Mara
Cameron Diaz
January Jones
Rihanna
How to use:
Rub a moderate amount into your palms until it takes the form of oil, which improves absorption. Apply it gently over your skin.
Ingredients:
Olive Oil, Beeswax, Honey, Bee Pollen, Propolis & Royal Jelly
Please note: This product contains bee pollen.
Highlights

Rated

5

out of

5
by
Rsya
from
Great for sensitive skin
I've been using it for a couple months now and it works well on my oily, sensitive and acne prone skin. I love that it doesn't have any preservatives! also does triple duty as a lip balm, handcream... dry spots etc etc. A little goes a long way
Date published: 2020-11-08
Rated

5

out of

5
by
Stephanie
from
Very thick and greasy but if you use just a pea sized amount it soaks in and feels so good and nourishing! I'm prone to breakouts and blackheads and they have almost gone away since using this!
Date published: 2019-09-10
Rated

5

out of

5
by
Kelsea
from
This stuff is amazing! It's thick so you don't need to apply a lot. I have terrible skin- especially on my face (dry skin, acne, psoriasis, you name it) my skin is so clear and feels really soft. I normally have a patch on my right check that gets scaly from my psoriasis and this helps a lot.
Date published: 2019-01-03
Rated

5

out of

5
by
Rebssa
from
Game changer
This product had changed my skin for the better. I have combination skin with dry patches and struggled with dermatitis around my mouth and nose. Since using Egyptian magic I have not had any flare ups or acne (besides some hormonal pimples). My skin had truly never looked better. I use it nightly and wake up with gorgeous, glowy and hydrated skin!
Date published: 2021-03-12
Rated

3

out of

5
by
Julie
from
This is just ok. I like that it smells a bit like honey. I've used it on lips and body before I go to bed and it's not too oily or sticky which is good. Put a generous amount on my lips but I woke up in the morning and it was completely gone. I didn't feel like my lips were moisturized.
Date published: 2019-10-03
Rated

3

out of

5
by
chickpea
from
Underwhelmed
Not as moisturizing as I had hoped. For the lips or skin, it goes on greasy but doesn't leave the skin especially soft or hydrated.
Date published: 2020-05-17
Rated

5

out of

5
by
Jess
from
This product revolutionized my skin. I have combination skin and was always prone to dry patches and the odd breakout. Egyptian magic detoxes and balances my skin. I thought it would be too oily and make me brake out more but it's cleared my skin right up! Its truly a miracle in a tub. I buy the small jar since one of these will last me 6-8 months. I love EM
Date published: 2019-12-24
Rated

5

out of

5
by
Pearwy
from
Natural and smells wonderful
I love this stuff, it has a slight bee wax smell which is extremely pleasant. It moisturizers very well and is easily absorbed into your skin. It doesn't take very much to be effective either....don't let the price tag scare you, this stuff is great.
Date published: 2021-02-06