Ellia
Ellia 100% Pure Essential Oil 3 Pack
Lavender, Pepermint & Lemongrass 3 x 10 mL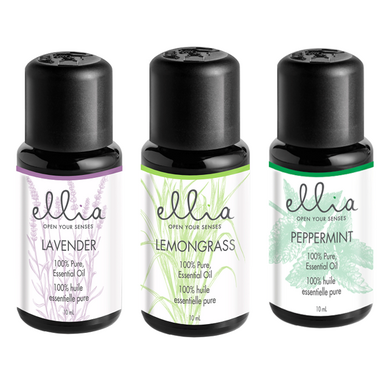 Ellia
Ellia 100% Pure Essential Oil 3 Pack
Lavender, Pepermint & Lemongrass
3 x 10 mL
---
Description
This Ellia 100% Pure Essential Oil 3 Pack features some of Ellia's most popular single essential oils: lavender, peppermint, and lemongrass. These classic essential oils have a wide variety of uses, and can even be mixed together to create your own unique blends.

Lavender is calming and relaxing; peppermint is refreshing and invigorating; and lemongrass is uplifting and clarifying. This 3-pack is the perfect way to kick-start your own essential oil collection or stock up on your favorite basics.

Suggested Use: Place 5-7 drops in your diffuser.

Ingredients: Separate bottles of 100% pure lavender (lavandula angustifolia) essential oil; 100% pure, grade peppermint (mentha piperita) essential oil; and 100% pure lemongrass (cymbopogon flexuosus) essential oil.

Keep out of reach of Children. For external use only. Avoid contact with eyes and mucus membranes. Consult a healthcare practitioner if you are pregnant, lactating or have medical conditions.

Highlights