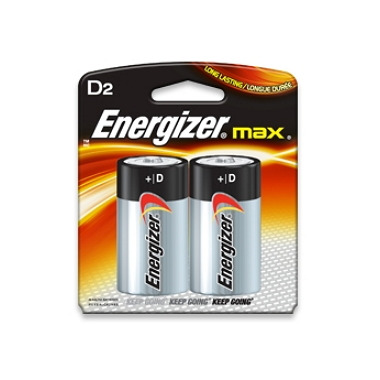 2 Count
Energizer Max D Batteries
is rated out of
5
by
519
.
---
Description
Your family is filled with energy. Make sure your household batteries can keep up. Energizer® batteries deliver dependable, powerful performance that keeps going and going. Providing long life for the devices you use every day — from toys to CD players to flashlights. The latest generation of Energizer® alkaline batteries is exactly what you need.

You never quit. Your battery shouldn't either.
Rated

5

out of

5
by
dpjp2020
from
Long Lasting
[This review was collected as part of a promotion.] I am someone who really gets annoyed when I constantly have to replace the batteries in my stuff such as my led candles, clocks and tv remotes. So I decided to try these batteries and I am so glad that I did because they truly do last a long time. I wanted to compare them with my other ones so I put a different battery in each of my candles at the same time. I am honestly shocked that I have now had to replace my candle twice with the other battery but this one is still going strong. I would definitely recommend these batteries to anyone who is looking for a trusted brand and a long lasting battery.
Date published: 2020-03-07
Rated

5

out of

5
by
bruinsjb
from
Great Long-Lasting Battery!
[This review was collected as part of a promotion.] Energizer is my go-to for batteries. I've tried cheaper options in the past, and constantly ran into issues with longevity or damaging acid leaks. After ruining several important items in the past, I finally decided to stick with Energizer going forward. The Energizer MAX family of batteries has met and exceeded my expectations. I NEVER have to worry about batteries leak in my most treasured of appliances. Even better, the MAX option gives me even more battery life! From my experience, so far, I change out my batteries less often and never have any malfunctions. Great battery and highly recommended!
Date published: 2020-03-09
Rated

5

out of

5
by
mytwocents
from
Excellent performance!
[This review was collected as part of a promotion.] I have had an excellent experience with the Energizer brand Max alkaline D batteries. They always meet with my expectations. They are heavier batteries which one expects with batteries that are larger and of higher quality. I installed these batteries in an older electronic, and it is working like today I bought it. I can trust this brand to know these batteries will last for a while and not leak. I love that you can tell the outer casing is thicker on Energizer batteries, and I am assured that my items will not be damaged from battery leaks. It is a great brand and I will continue to purchase their products.
Date published: 2020-03-04
Rated

5

out of

5
by
mskitty
from
Powerful
[This review was collected as part of a promotion.] We go through batteries in our home like water. I have the Energizer Max D-2 pack and boy did I need them. We keep flashlights in every bedroom plus under the sink for emergencies. During a recent storm, my flashlight died and of course no spare batteries for it. Hence, the Energizer D size are now in my flashlight. Powerful bright light and they have a 10 yr. shelf life. Energizer is the ONLY brand we use so having a durable, strong, long lasting battery is a necessity. Thank you Energizer, the name alone means quality products. Will be stocking up on more of all sizes!
Date published: 2021-05-03
Rated

5

out of

5
by
Katielj114
from
Long lasting
[This review was collected as part of a promotion.] I was excited to try these MAX size D batteries in my elliptical trainer. I have tried many other brands and they kept coming up short and losing their power after less than a month. These batteries have lasted almost a month and have no evidence of dying out and are still showing 3/4 life left. The price point is reasonable, they are easy to find in stores and a brand that I trust. I will need to come back and update my review with the total amount of life that they provide when the time comes. At this time I am extremely happy with the performance and recommend them!
Date published: 2023-05-09
Rated

5

out of

5
by
Mandee
from
Going and going and going!
[This review was collected as part of a promotion.] Energizer MAX D batteries have a great life expectancy rate. We put these in my son's race car track, which eats through batteries like crazy!! Sometimes we have to switch batteries in the middle of playing! Energizer MAX batteries lasted through 3 sessions of playing with his race track, which is amazing! These batteries would be great for our camping lanterns as well, as we wouldn't have to worry about changing batteries during our trips. The package opened easily, and batteries loaded exactly as they should. We were impressed with their power and longevity.
Date published: 2021-05-24
Rated

5

out of

5
by
Jenicorn817
from
Long-lasting
[This review was collected as part of a promotion.] I love my trash can but the downside of owning a battery-operated hands-free can is the number of batteries you go through. Rechargeable batteries are the end goal but for now, I am still using single-use and these are truly the best. There are competitor brands that are good too, but these honestly seem to last the longest. I am constantly triggering the top when I walk past let alone how much I throw things away. It's really nice that I don't feel like I'm going through these quickly. I hate to think of the cheaper batteries that just end up in the landfill before even really getting much use. These are worth every penny.
Date published: 2021-05-09
Rated

5

out of

5
by
Queensd
from
Powerful long lasting batteries
[This review was collected as part of a promotion.] Best batteries I have ever used. These are most definitely long lasting. I use these Energizer batteries for my portable fan/light and I must say I am beyond impressed how long these batteries are holding up. I use my fan anywhere for 6 to 8 hours five times a week at work and this routine has been going on for almost 3 weeks talk about long lasting. I have always been a fan of the Energizer brand. I am glad I gave these Energizer Max D cell batteries a try because I am very pleased. I highly reccomend these Energizer Max batteries you won't be disappointed.
Date published: 2020-07-16