Envision Home
Envision Home Quilted Dish Cloths
Cream, Coastal Blue & Sage Green 3 Count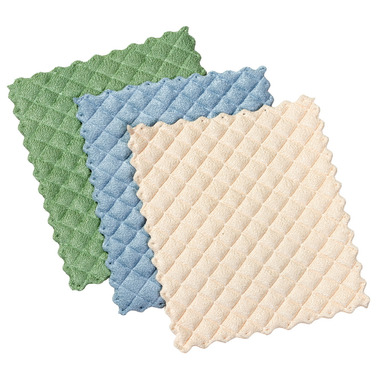 Cream, Coastal Blue & Sage Green
3 Count
---
Description
The quilting process merges the sensational cleaning properties of microfiber with the superb absorbing qualities of a sponge.
Features:
One of each colour per pack - Cream, Coastal Blue and Sage Green
Dish cloths measure 6.5" x 7.5"

Quilting process brings together the qualities of microfiber and a sponge ideal for cleaning dishes or wiping up spills
Loosens, lifts and traps moisture and ultra-fine particles that traditional sponges often leave behind
An updated, elegant look to the boring old kitchen sponge, these cloths comfortably fit in the palm of your hand
3 cloths per pack allow you to always have a dry, super-absorbent cloth handy
Highly durable and machine washable in warm water with liquid detergent - tumble dry low
Use & Care:
Rinse thoroughly before and after each use. For best results, the Quilted Dish Cloths can be cleaned in the dishwasher (top rack only) or machine washed in warm water with a liquid detergent. Air dry or tumble dry low. Do not iron. Do not use bleach, fabric softener or dryer sheets.