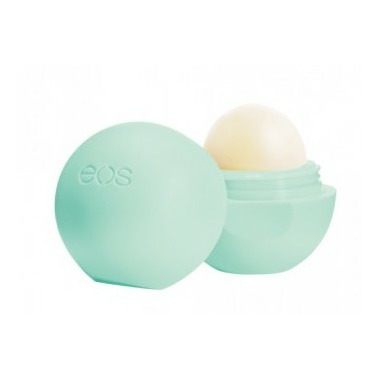 Sweet Mint
7 g
eos Smooth Sphere Lip Balm
is rated out of
5
by
148
.
---
Description
Smooth on the refreshing essence of sweet mint and give your lips the moisture they crave.
eos lip balm in Sweet Mint is 95% organic, 100% natural, and paraben and petrolatum free. Packed with antioxidant-rich vitamin E, soothing shea butter and jojoba oil, eos keeps your lips moist, soft and sensationally smooth.
eos Lip Balm Features:
Long-lasting moisture
Shea butter & vitamin E
Smoothes on clear
Precisely glides on lips
Twist-off top
Gluten-free
Paraben-free
Petrolatum-free
Phthalate-free
Ingredients:
Olea Europaea (Olive) Fruit Oil*, Beeswax (Cire D'abeille)*, Cocos Nucifera (Coconut) Oil*, Simmondsia Chinensis (Jojoba) Seed Oil*, Mentha Piperita (Peppermint) Oil*, Butyrospermum Parkii (Shea Butter)*, Stevia Rebaudiana Leaf/Stem Extract*, Tocopherol, Limonene**, Linalool**. *Organic. **Component of Mentha Piperita (Peppermint) Oil*. Certified Organic by Oregon Tilth.
Highlights

Rated

5

out of

5
by
Debra
from
Each winter my lips are dry and chapped and I try many lipbalms both for variety (it's fun!) and to seek out the best product resulting in softer lips. This was a particularly bad season and I suffered chapped cracked lips to the extent I never have before. The Eos products were among those I tried for the first time. I think they are the best on the market. I tried all three (Mixed Berry, Honeysuckle and Sweet Mint). Loved all three, each of which worked equally as well, but the Sweet Mint was my fave -- tingly, fresh, soothing. Will definitely buy again. I hope well.ca will also stock the Lemon variety.
Date published: 2012-01-19
Rated

3

out of

5
by
Jennifer Ng
from
Overall Great Packaging, Great flavour, Great smell. The actual lip balm is just average (similar to Blistex, but better than their Smoothies collection). It's a little waxy and thicker (than the Aquafina lip balms). So if that's what you're looking for that's great. Didn't find it moisturized all that well, though the cooling mint felt nice (just wished it lasted longer). They dried out my lips a while after i put it on causing me to want to reapply every half hour. I've never tried a (mostly) organic lip balm before so that part was great!
Date published: 2011-08-24
Rated

5

out of

5
by
Cassie
from
I think this is phenomenal stuff. I am one of those people who has lip balm everywhere. In every purse, on my nightstand, in my car, etc. But lately my lips had been so parched and none of my lip balms were working. I had to reapply many times throughout the day, and I could not find a lip balm that actually made my lips feel any better. I love this stuff, I can put it on before I go to bed and it lasts through the night and into the next day. It also has a very refreshing minty scent and let's be honest, you can't deny how cute it is too.
Date published: 2011-11-17
Rated

5

out of

5
by
christine
from
I really love this stuff - love that it is natural & 95% organic. It is not overly greasy or minty either. Some balms are natural but really greasy to the point that it just stays as a thick film on top of your lips or transfers a greasy residue to anything your lips contact (glasses, cups, etc.). I also think the shape, although odd (iIm a sucker for inventive packaging), truly does make application easier. My overly chapped lips are thankful I purchased this product.
Date published: 2011-10-27
Rated

5

out of

5
by
C.
from
This lip balm is a fantastic product. For some reason, I am suffering from really badly chapped lips this year. Have tried blistex, chapstick, etc. but nothing works. I ordered this lip balm for my daughter for a stocking stuffer. She loves it and won't use anything else. I tried it and have to say it kept my lips moisturized, even after drinking or eating and my chapped lips disappeared. The price on this website is fantastic and I highly recommend this product.
Date published: 2014-01-06
Rated

2

out of

5
by
Monika
from
After reading all the positive reviews I decided to give this product a try. I liked the gentle mint sent and how fresh it felt on my lips, but after a few applications I noticed that my lips were becoming quite dry. I switched back to my previous lip balm to determine if the cause was the EOS lip balm or me and I noticed that my lips began getting better once I stopped using EOS. Unfortunately, I will not be purchasing this product again.
Date published: 2011-12-04
Rated

4

out of

5
by
Cheryl
from
In my search for a new lip balm after the one I've loved has been discontinued I really like this product. My only complaint is the egg shape isn't great as I always keep a lip balm in my pants pocket and this is too large and clunky. Also as my purse is tiny it won't fit in my purse. So I have to continue my search for a new product. I will continue to buy this for keeping on my desk at home and the office.
Date published: 2016-09-30
Rated

5

out of

5
by
Vanessa
from
These are undeniably addictive. The shape makes it easier to hang onto and not LOSE vs. the traditional tube. The mint is by far the best flavour and the most wearable. (I easily get sick of most flavours but I have purchased the Mint several times.) When I'm done I've actually cleaned it up and given it to my daughter for play. No worries about small, loose parts and she can pretend to balm it up like Mummy!
Date published: 2015-11-11