Ergogenics Nutrition Liquid Adrenaline Energy Berry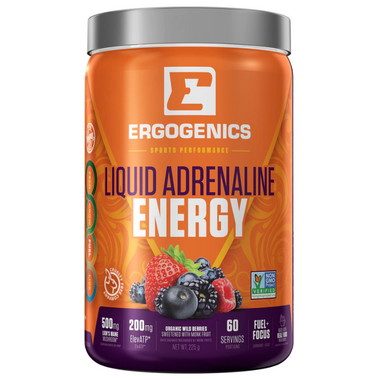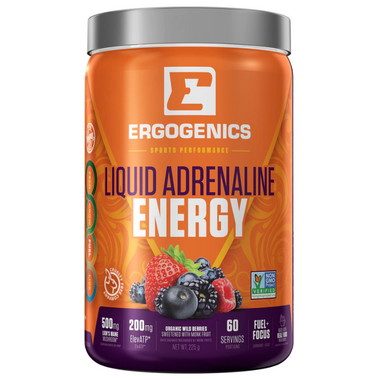 Ergogenics Nutrition Liquid Adrenaline Energy Berry


Ergogenics Liquid Adrenaline is a nutrient dense plant-based energy drink. It's a powerful energy and adaptogenic formula with no negative side effects. It helps the body provide higher levels of ATP via its own internal mechanism. This way it's healthy, non-stimulatory energy from the body's own mitochondria.
Ergogenics Liquid Adrenaline is designed for athletes, students, professionals, sports enthusiasts, late-night workers, and all active health-conscious people looking to boost their energy levels!
Features:
Supports Higher Levels of Mitochondrial ATP
Increases Lean Muscle and Strength
Promotes Increase Power Output and Training Volume
Improves Athletic Performance and Body Composition
Increases Energy and Mental Alertness.
Enhances Endurance and Promotes Healthy Circulation.
Boosts Immune Function and a good source of Antioxidants
Dosage: One scoop (7.5 g) into water (250 ml). May be consumed 1 to 2 times daily.
Active Ingredients: Coconut Oil MCT Powder 1000 mg, ElevATP (Ancient Peat and Apple Extract) 200 mg, Beetroot 150 mg, B12 (Methylcobalamin) 100 mcg, Lion's Mane Mushroom 500 mg, Pine Pollen (Cracked Cell Wall) 400 mg, Cha De Bugre 250 mg, Yerba Mate 250 mg, Turmeric 50 mg, Ginge 50 mg, Organic Blueberry, Organic Blackberry, Organic Acai Berry, Organic Raspberry , Organic Strawberry, Himalayan Sea Salt 50 mg
Non-Active Ingredient: Organic Coconut Nectar, Sprouted Brown Rice Syrup, Natural Flavour, Citric Acid, Xanthan Gum, Monk Fruit.