Ergogenics Nutrition Plant Protein +Greens Berry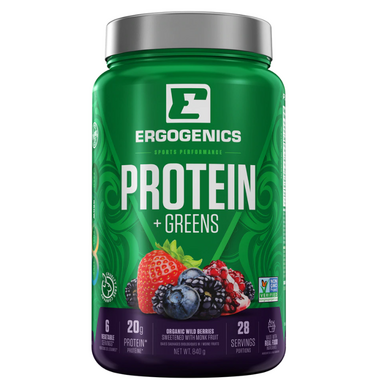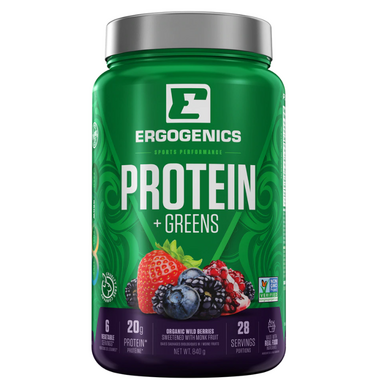 Ergogenics Nutrition Plant Protein +Greens Berry

Ergogenics Nutrition Plant Protein +Greens is a big, bold and surprisingly smooth protein drink with nutty and earthy undertones. Sweetened with monk fruit. Free from pea, rice, soy and artificial ingredients.
This carefully-crafted green superfood protein formula, contains 12 protein-rich nutrient dense plant-based ingredients. Ergogenics Nutrition Hemp Protein is Water-Soluble and is an excellent source of Essential Amino Acids. It has a complete spectrum of natural organic proteins, with all 20 amino acids used in the human body, including all 10 essential amino acids. Ergogenics Plant Protein also provides essential fatty acids (EFAs) omega-3 and omega-6 in a healthy 3:1 ratio. It's also an excellent source of dietary fibre and is very rich in vitamins and minerals.
Features:
100% Organic Plant-Based Ingredients & non-GMO
Wheat, Yeast, and Gluten FREE
No Artificial Flavours or Sweeteners
Increases Energy, Strength, and Metabolism
Improves Immune System and Digestion
Helps Build Cleaner Muscles and High in BCAA's
Organic Ingredients:
Soluble Hemp Protein Concentrate (Cannabis Sativa),
Spirulina (Spirulina Platensis), Chlorella (Chlorella Vulgaris), Kale (Brassica Oleracea Var.Viridis), Barley Grass Juice (Hordeum Vulgare), Wheat Grass (Triticum Aestivum), Alfalfa (Medicago Sativa), Broccoli Floret (Brassica Oleracea Var. Italia), Cabbage (Brassica Oleracea Var. Capitata), Spinach (Spinacia Oleracea), Wakame (Alaria Esculanta), Matcha Green Tea, Blackberry,
Pomegranate, Blueberry, Strawberry, Citric Acid, Monk Fruit (Siraitia Grosvenorii).
Suggested Use:
One scoop (30g) into water or juice (250m'). May be consumed 1 to 3 times daily.