Eucerin Complete Repair Intensive Lotion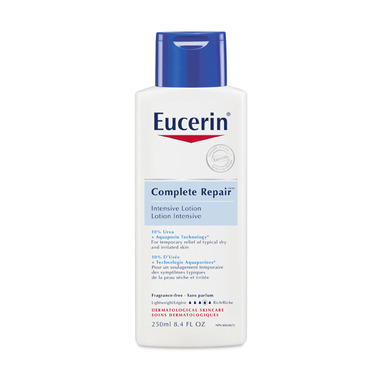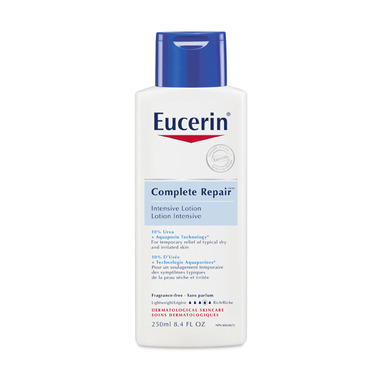 Eucerin Complete Repair Intensive Lotion
For the first time three important skin actives are combined in one formula to target dry skin in a holistic and effective way.

Eucerin Complete Repair helps your skin in the long term:
With better moisture binding
Improved moisture distribution
By activating skin's own moisture network
10% Urea, Ceramide-3 + Aquaporin Technology
Eucerin Complete Repair Range provides a multidimensional approach for fast and long lasting relief of dry skin symptoms.
Ingredients: 1,2-Hexanediol, Alanine, Arginine HCL, Butyrospermum Parkii (Shea) Butter, Carnitine, Ceramide 3, Cetearyl Alcohol, Citrulline, Dicaprylyl Ether, Glutamic Acid, Glycerin, Glyceryl Glucoside, Glycogen, Histidine, Isopropyl Stearate, Lactic Acid, Lysine, Mannitol, Nylon-12, Phenoxyethanol, Polyglyceryl-4 Diisostearate Polyhydroxystearate Sebacate, Potassium Sorbate, Serine, Sodium Chloride, Sodium Lactate, Sodium PCA, Sucrose, Threonine, Urea/Urée, Water/Eau


Denis:
a few months ago
This product does work for very dry skin because it contains 10% Urea. I use it for very dry skin on my feet and elbows. Use sparingly and rub it in very well. It will make your feet slide on wood or other smooth floors, so best to put on socks after use. Used once or twice per day, it will resolve any very dry skin problem within a week or so, and then use only once a week. This is not for general moisturising use, but only for very dry problem skin areas.
Christine:
about a year ago
This is one of the few products that actually works for my skin, which in the winter is dry, scaly and flaky (not a pretty situation). Using this product really helps seal in moisture and makes my skin smoother. I prefer to use all natural skin care products but every winter I get fed-up with them not working well or taking constant reapplication. Then I buy this. Doesn't smell great, probably due to the urea, but that is the ingredient helping seal in the moisture.
Balsam:
more than a year ago
I bought Eucerin complete care 10% urea from Amazon here in the U.S., a product made in Germany fabulous.Then my cousin told me about well.ca, so I ordered it.Alas the customer service and cost, great.The product sticky, smells funny, not pleasant, but tolerable, and sadly not an effective moisturizer.So I wasted my money..
Page
1