EVOLVh SuperFinish Polishing Balm
Brilliant Shine
250 mL (8.5 oz)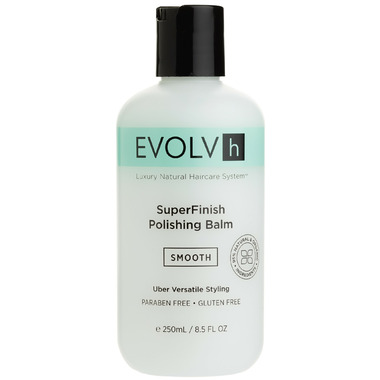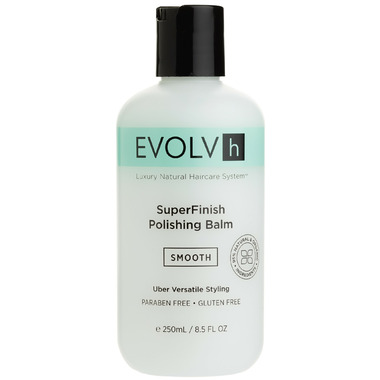 EVOLVh SuperFinish Polishing Balm
Brilliant Shine
250 mL (8.5 oz)
Many stylists call EVOLVh's SuperFinish Polishing Balm the perfect product. It delivers brilliant shine, de-frizzes and controls flyaways. Plus it moisturizes and protects without being greasy or adding weight - an incredible alternative to oils.
Benefits:
Creates subtle, weightless hold
Gives hair a great boost and adds shine
Eliminates frizz and controls flyaways
Moisturizes dry ends
Protects against heat and UV damage
Paraben free and gluten free
EVOLVh products are made using 90% or higher organic content
Never tested on animals
Made in the USA
Key Ingredients:
Jojoba Oil moisturizes, strengthens, and protects against heat damage from styling tools.
Soy Bran Lipids provide deep moisture, improve elasticity, and create shine.
Passionflower protects outer layer of hair from dryness.
To use:
Apply to damp hair when air-drying. You can also use it to dry hair after blow-drying and/or flat-ironing to smooth and polish for a sleek look. You'll have hair with brilliant shine and without frizz or pesky flyaways.
Ingredients
: Water, pHytoBlend (proprietary concentrate blend of 20 herbs in an aqueous base), hydrolyzed silk, soy bran lipids, jojoba oil, passion flower, Vit E crystals, cyclomethicone, cyclopentasiloxane, corn starch, ambrosia, citrus seed extract.
Organic, natural, paraben free, gluten free, never tested on animals, made in the USA
Catherine:
about a year ago
The Evolvh products ARE THE BEST natural hair care products I have ever used. They are expensive but are just as good as the best high quality salon products but with safe and natural ingredients. A little of this goes a long way. Leaves hair silky and moisturized. Awesome.
Page
1