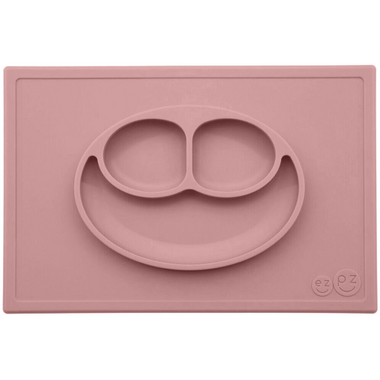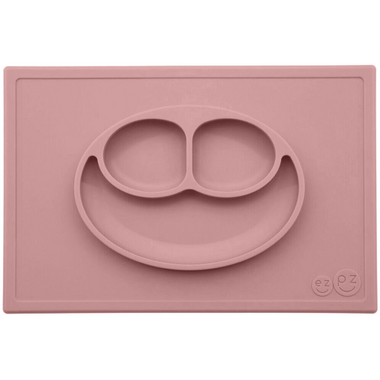 ezpz's award-winning flagship offering - The Happy Mat! The Happy Mat is an all-in-one placemat + plate that captures kids' messes. Another bonus? It suctions directly to the table, making it nearly impossible for tiny hands to tip over.
Features:
Dimensions: 15 x 10 x 1
Portion sizes (i.e., the eyes and smile) are catered to toddlers at 4oz, 4oz and 10oz
Three compartments remind parents to serve a fruit or veggie, protein and carbohydrate
Smiley face design puts kids in the right mood for a positive mealtime experience
3-4 mats can be stacked and carried with food
Dishwasher, microwave and oven safe
Easy to store (place in utensil drawer or cabinet)
Built to last (mats will always look brand new)
100% Silicone
BPA, PVC and Phthalate free
Hypo-allergenic
Kim:
a few months ago
Love it ! Our daughter is only 5.5 months and I gave 4 stars because i'm assuming she'll end up figuring out how to lift the edges up one day, but not yet :). Whether you are purchasing the happy mat or the mini mat, make sure to check the dimensions with the area you plan on using it on... the happy mat probably only fits on a table surface and not on any high chair tray, the mini mat probably fits most high chair trays, but not all.
Page
1