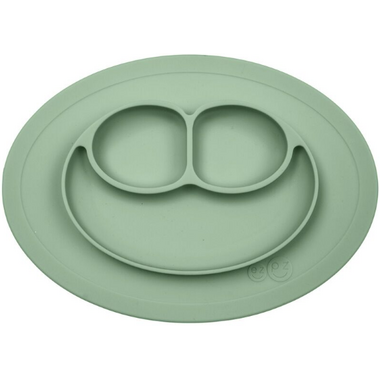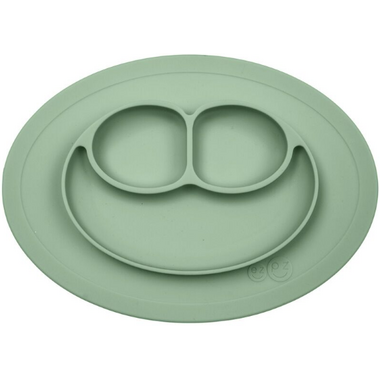 The Mini Mat is ezpz's solution for infants and travel. Like all of ezpz's products, the Mini Mat is an all-in-one placemat + plate that suctions to the table. The mat is made from 100% food-grade silicone that is BPA, PVC and phthalate free. Designed for infants / toddlers 4+ months.
Features:
Dimensions: 8.5 x 7.7 x 1
Portion sizes (i.e., the eyes and smile) are catered to infants at 2oz, 2oz and 4oz
Mat fits most highchair trays, including "space saver" models
Mat is made from a thinner silicone and is extremely lightweight, so it is perfect for dinners out and travel
Mat is packaged in a reusable bag that is ezpz to pop in your diaper bag
Dishwasher, microwave and oven safe
Easy to store (place in utensil drawer or cabinet)
Built to last (mats will always look brand new)
Note - since the Mini Mat is made from thinner silicone, it helps to press the edges down once the mat has been placed on the tray or table
Designed for infants/toddlers 4+ months.
Important Notes:
The Mini Mat does not fit on the following highchair trays: the Stokke Tripp Trapp, the Boon Flair, the Nuna Zaaz, the Keekaroo, the Ingenuity ChairMate (Easton), the Safety 1st Beaumont and the Abiie Beyond Wooden Highchair. The high-gloss finish of the Oxo Sprout Highchair hinders the Mini Mat's suction function. That said; at ezpz they say ditch the highchair tray and push your infant / toddler up to the table with the rest of the family!
Kim:
a few months ago
Love it ! This mini mat fits on our daughters high chair tray that doesn't have the biggest area... She's only 5.5 months and I gave 4 stars because i'm assuming she'll end up figuring out how to lift the edges up one day, but not yet :). Whether you are purchasing the happy mat or the mini mat, make sure to check the dimensions with the area you plan on using it on... the happy mat probably only fits on a table surface and not on any high chair tray, the mini mat probably fits most high chair trays, but not all.
Chelsea:
a few months ago
I love the ezpz place mat I find that my daughter pushes less food on the floor now that we are using the mat. She has how ever figured out how to remove it from her highchair tray because it doesn't get a really strong suction, but thankfully she doesn't start doing that until the end of her meal!
Page
1