Garden of Life Raw Organic Protein Chocolate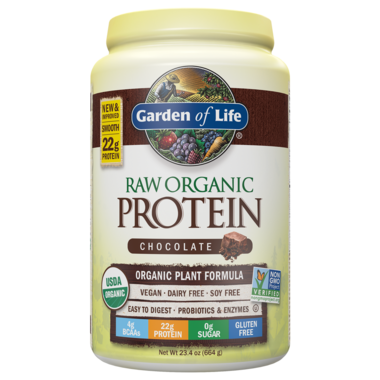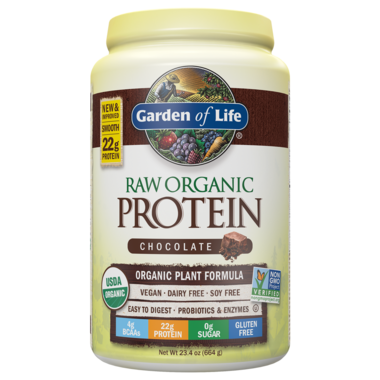 Garden of Life Raw Organic Protein Chocolate
Garden of Life Raw Organic Protein is a Certified Organic, Non-GMO Project Verified RAW Vegan Protein powder made with 13 Raw sprouted proteins delivering 22 grams of protein that is dairy free with a complete profile of all the essential amino acids along with added whole food fat-soluble vitamins, probiotics and enzymes.
Unleash the nutritive power of living grains and seeds with Garden of Life RAW Organic Protein—a certified organic, RAW, vegan protein powder with a scrumptious taste. Featuring 22 RAW and organic sprouts, RAW Organic Protein is an excellent source of complete protein—providing 22 grams and 34% of the Daily Value—including all essential amino acids. RAW Organic Protein contains RAW Food-Created fat-soluble vitamins A, D, E and K and supports digestive health and function with live probiotics and protein-digesting enzymes.† RAW matters because heat can denature proteins, reducing their availability to your body. But Garden of Life's Certified Organic plant proteins are different—always gently produced at low temperatures, without any added fillers or carriers, preserving their complete amino acid integrity and whole-food, Certified Organic, Non-GMO goodness.
Benefits:
Helps build and repair muscle
Good for pre- and post-workout
Promotes protein synthesis
Increases protein content of meals and snacks
Easily digested
Suitable for vegetarians and vegans
Good for those with sensitivities to milk and other proteins
Highest quality alternative to soy, whey and milk protein
No Fillers, No Artificial Flavors or Sweeteners, No Preservatives
RAW Organic Protein—an excellent source of Certified USDA Organic, Non-GMO Verified, Informed-Choice Clean for Sport, RAW vegan complete protein powder from 22 RAW and organic sprouts.
Nutritional Information.

organic, gluten free, vegan, soy free, non gmo, dairy free



Shi:
a few months ago
I finally have found back to my healthy lifestyle after diagnosed with a deadly immune system disease. I read Dr Jason Fung's books. I eat low carb, high fat moderate protein but most importantly I follow intermittented fasting . I do not eat or drink anything except for plain water or black coffee for at least 18 hours a day and only eat in a 6 hour window. And sometimes I replace my first meal with a raw organic protein shake with an additional spoon of virgin coconut fat and one spoon of chlorella. I have substantially improved my bloodwork, I feel energized again and I have lost 33 pounds in under 4 months. The protein shake taste delicious is very filling and dessolves great in my magic bullet. I like the organic raw ingredients.
Page
1