Genuine Health Fermented BCAA+ Creatine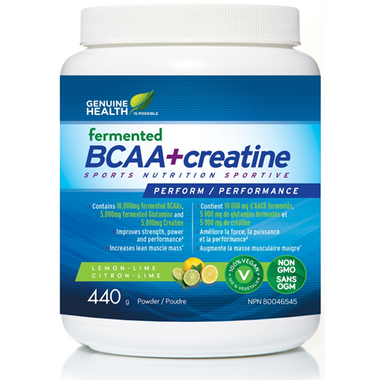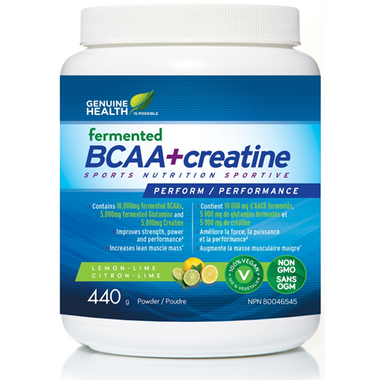 Genuine Health Fermented BCAA+ Creatine
Genuine Health Fermented BCAA+ Creatine provides the nutrients the body needs to maximize your performance.
Features:
Increases lean muscle mass
Improves strength, power and performance
Helps support the immune system
Helps assist in muscle cell repair
Helps support the digestive system
Recommended use:
To increase lean muscle while improving strength, power and performance.
Dosage:
Mix 1 scoop (22 g) of fermented BCAA+creatine in 2 cups (500 ml) of pure water or juice and take during or after exercising once daily. Take separately from products containing caffeine (e.g. coffee, cola, etc.). Use for a minimum of 4 weeks.

Ingredients per 22g
Creatine (monohydrate) 5.0 g
fermented L-Glutamine 5.0 g
fermented L-Leucine 5.0 g
fermented L-Isoleucine 2.5 g
fermented L-Valine 2.5 g

Non-medicinal ingredients:
Natural lemon-lime flavour blend, citric acid, Stevia rebaudiana: Stevia leaf extract, xanthan gum, Siratia grosvenorii: Luo han guo fruit extract.
fermented BCAA+creatine contains no gluten, wheat, dairy, egg, soy, yeast, animal products, artificial colours, flavours or sweeteners.
Caution:
Consult a health care practitioner prior to use if you are pregnant or breastfeeding, have kidney disorder, Parkinson's disease, or are following a low protein diet. May result in weight gain if not used with increased physical activity. Do not use if you are taking Levodopa, a medication used to treat Parkinson's disease.
Store in a cool, dry place.



Chanelle:
about a year ago
Great product. This is the first time I purchase BCAA's. After doing a bit of research, I found that the Genuine Health brand offered the best product in terms of quality... most BCAA's are full of added sugars and preservatives. To be honest, I was scared that it would not taste good, but I absolutely love the taste! The only CON that I would like to mention is that I have been getting a zit on my face ever since I started taking this during my workouts. I believe this is due to the added creatine. Beforehand, I had a clear face, and I would only get the occasional zit if I had a treat such as non dark chocolate. I am not sure whether or not I will be re purchasing this product.
Page
1