Genuine Health
Genuine Health Greens+ Multi+
Natural Mixed Fruit 459 g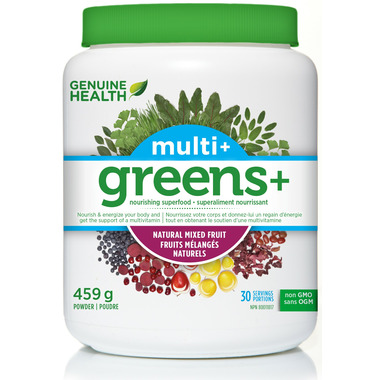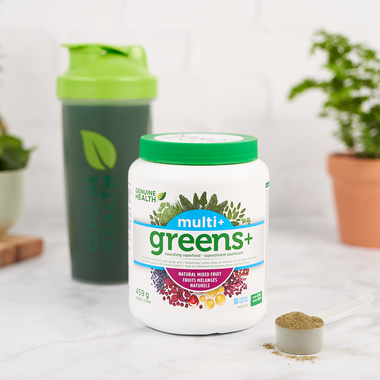 Natural Mixed Fruit
459 g
---
Description
Despite following a healthy diet, we could all use extra nutritional support. To get your daily greens plus a complete multi-vitamin, consider greens+ multi+. Just one scoop provides a full serving of greens+ that's rich in phytonutrients and antioxidants, PLUS the convenience of a superior quality, high potency multi-vitamin/mineral supplement. To improve and protect your health, while increasing your energy and vitality, include greens+ multi+ every day.
Benefits:
Superfoods
Digestive Health
Energy & Vitality
pH Acid/Alkaline
Ingredients: LECITHIN, SPIRULINA CELLS, APPLE FRUIT, ORGANIC BARLEY GRASS, ORGANIC ALFALFA GRASS, ORGANIC WHEAT GRASS, CHLORELLA, ORGANIC SOY SPROUTS, ORGANIC WHOLE BROWN RICE KERNAL, ROYAL JELLY, BEE POLLEN, LICORICE ROOT EXTRACT, ACEROLA BERRY JUICE, FOS, LACTOBACILLUS HELVETICUS, LACTOBACILLUS RHAMNOSUS, LACTOBACILLUS CASEI, LACTOBACILLUS PLANTARUM, LACTOBACILLUS SALIVARIUS, BIFIDOBACTERIUM LONGUM, BIFIDOBACTERIUM BIFIDUM, BIFIDOBACTERIUM BREVE, SIBERIAN GINSING ROOT EXTRACT, MILK THISTLE SEED EXTRACT, ORGANIC RED BEET ROOT, ATLANTIC DULSE SEAWEED, GINKGO BILOBA L. LEAF EXTRACT, JAPANESE GREEN TEA LEAF EXTRACT, EUROPEAN BILBERRY EXTRACT, GRAPE EXTRACT, VITAMIN A, VITAMIN C, VITAMIN B1, VITAMIN B2, VITAMIN B3, VITAMIN B5, VITAMIN B6, VITAMIN B12, VITAMIN D, VITAMIN E, FOLIC ACID, BIOTIN, CALCIUM, MAGNESIUM, ZINC, MANGANESE, CHROMIUM, SELENIUM, IODINE, MOLYBDENUM, VANADIUM, INOSITOL, HEMP SEED POWDER, NATURAL FLAVOUR BLEND WITH STEVIA, CITRIC ACID, MALIC ACID
Recommended Dosage:
To increase energy and well-being while maintaining health, mix 1 scoop (15.3g) of greens+ multi+ in one and a half cups (375mL) of pure water. Shake well. Take with food a few hours before or after taking other medications. If you are a new user of greens+, begin with 1/3 scoop daily and gradually increase to a full scoop daily over a 3 week period.Consult a health care practitioner for use beyond 3 months.
Caution:
Not to be taken by children, during pregnancy, while breastfeeding, by those on medication or with chronic health problems or cancer unless under the recommendation of a health practitioner. Consult a health care practitioner prior to use if you have nausea, fever, vomiting, bloody diarrhoea or severe abdominal pain. Do not use if you have gastrointestinal blockage, have a history of non-melonoma skin cancer or have an immune-compormised condition (eg. AIDS, lymphoma, patients undergoign long-term corticosteroid treatment). Discontinue use and consult a health care practitioner if symptoms of digestive upset occur, worsen or persit beyond 3 days. Use with caution of allergic to bee products.
Note:
greens+ multi+ contains no artificial colours, flavours, sweeteners, or egg. Keep greens+ multi+ refrigerated after opening. greens+multi+ is non-irradiated.
Highlights

Ingredients
LECITHIN, SPIRULINA CELLS, APPLE FRUIT, ORGANIC BARLEY GRASS, ORGANIC ALFALFA GRASS, ORGANIC WHEAT GRASS, CHLORELLA, ORGANIC SOY SPROUTS, ORGANIC WHOLE BROWN RICE KERNAL, ROYAL JELLY, BEE POLLEN, LICORICE ROOT EXTRACT, ACEROLA BERRY JUICE, FOS, LACTOBACILLUS HELVETICUS, LACTOBACILLUS RHAMNOSUS, LACTOBACILLUS CASEI, LACTOBACILLUS PLANTARUM, LACTOBACILLUS SALIVARIUS, BIFIDOBACTERIUM LONGUM, BIFIDOBACTERIUM BIFIDUM, BIFIDOBACTERIUM BREVE, SIBERIAN GINSING ROOT EXTRACT, MILK THISTLE SEED EXTRACT, ORGANIC RED BEET ROOT, ATLANTIC DULSE SEAWEED, GINKGO BILOBA L. LEAF EXTRACT, JAPANESE GREEN TEA LEAF EXTRACT, EUROPEAN BILBERRY EXTRACT, GRAPE EXTRACT, VITAMIN A, VITAMIN C, VITAMIN B1, VITAMIN B2, VITAMIN B3, VITAMIN B5, VITAMIN B6, VITAMIN B12, VITAMIN D, VITAMIN E, FOLIC ACID, BIOTIN, CALCIUM, MAGNESIUM, ZINC, MANGANESE, CHROMIUM, SELENIUM, IODINE, MOLYBDENUM, VANADIUM, INOSITOL, HEMP SEED POWDER, NATURAL FLAVOUR BLEND WITH STEVIA, CITRIC ACID, MALIC ACID
Shipping & Returns