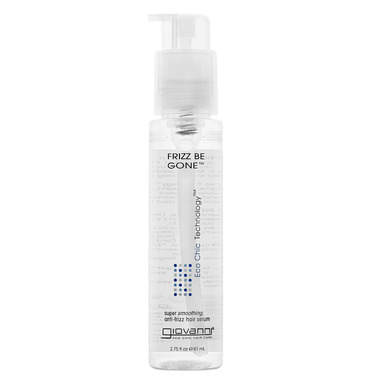 81 mL
Giovanni Eco chic Frizz Be Gone Anti Frizz Serum
is rated out of
5
by
26
.
---
Description
Giovanni Eco chic Frizz Be Gone Anti Frizz Serum is a little bottle that contains the perfect aid to rescue you from frizz. The super-smoothing serum within controls frizz, adds shine and conditions. It even works to help lock in hair colour. So many hair issues – gone. The only thing not gone is style!

Features:
This liquid style creates the perfect sealant: Control frizz, add shine, infuse with conditioners, and lock in hair colour
Provides great humidity-control conditions
Smooths and detangles
Helps stop breakage
Provides extreme heat protection
Improves elasticity
Seals in colour
Directions:
Rub a few silky drops onto palm of hands and evenly distribute through wet or dry hair. May be used with blow dryer for straightening.
Ingredients: Cyclomethicone, *Soybean Protein (Glycine Soja), Dimethicone, Tocopherol (Vitamin E), Panthenol (Vitamin B5), *Rosemary (Rosmarinus Officinalis), *Nettle (Urtica Dioica) Oil, *Thyme (Thymus Vulgaris) Oil, Octyl Methoxycinnamate
*USDA Certified Organic

Highlights

Rated

5

out of

5
by
Nancy
from
I am very impressed. I have spent a ton of money trying to get my hair right after 2 pregnancies - it was wild, coarse and DRY. I got rid of all my salon products and switched to Giovanni. I make sure not to use any parabens or sulfate. After 4 weeks, my hair has never been better. The serum is a nice smoother - but you don't end up with greasy hair. I use it and can easily go 3-4 days without washing.
Date published: 2014-11-18
Rated

5

out of

5
by
Elodie
from
I am very pleased with this product as it moisturizes my hair and leaves it soft, bouncy, silky and not greasy while helping control my frizz. I use it before straight ironing my hair after blow drying when I want it straight (I have 3c curly hair) and then every morning to maintain that straight style and prevent frizz. It works really well and a tiny amount of product is sufficient each time!
Date published: 2010-02-26
Rated

5

out of

5
by
Nelly
from
It's a really good product. I was hesitant at first but after seeing the reviews and actually putting it on, I find it really nice on the hair. It isn't sticky and it smells very light. Recommend!
Date published: 2013-01-04
Rated

5

out of

5
by
Sidonie A
from
This treatment works extremely well when my hair "explodes" leaving it soft and shiny. Really importantly to me, it's not greasy. My frizz superhero product.
Date published: 2019-07-01
Rated

5

out of

5
by
Ana
from
Love the fact it's without all the harmful chemicals. My hair looks great with it and the product lasts forever. I only use a drop each time mixed in with some water to dilute the product and it's perfect every time. Looks natural without greasing the hair too much.
Date published: 2012-05-12
Rated

3

out of

5
by
Sam
from
This product is ok, I was hoping for better. My hair gets real frizzy and volumesque in the humid/rainy seasons. I need to use 5 squirts of this product for it to get a little bit of frizz-free results.
Date published: 2019-08-08
Rated

5

out of

5
by
Eliane
from
Just like other reviews stated, you have to put a very small amount of the product in your hair for it to be effective. Leave hair shiny and frizz-free, whether you leave them curly or straighten them.
Date published: 2013-01-08
Rated

5

out of

5
by
andrea
from
I've got some seriously thick uncontrollable hair and this really helps. I only need a small dab and it doesn't make my hair sticky or greasy, just shiny.
Date published: 2009-12-11