Giovanni Smooth As Silk Shampoo Travel Size
Deeper Moisture for Daily Use
60 mL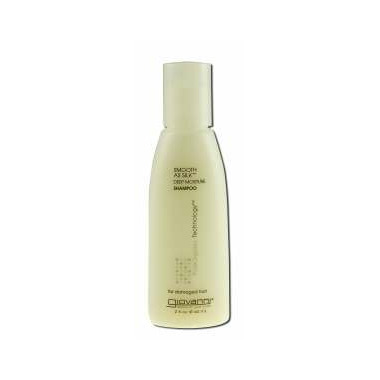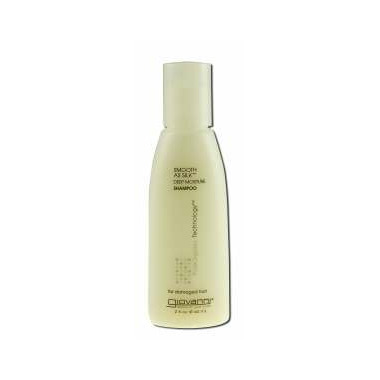 Giovanni Smooth As Silk Shampoo Travel Size
Deeper Moisture for Daily Use
60 mL
Pearlized formula that glistens in your hand and transforms your hair into a silky palette. Lather and glow while prepping for your best style.
Features:
Luxurious lather soothes dry, chemically processed hair
Cleanses gently for manageable smoothness
Calms unruly hair to alleviate frizz
Increases shine while smoothing dry or damaged hair
Zero sulfates
Enriched with certified Organic Botanicals
No animal by-products and cruelty free
Usage Tips:
Massage rich lather into wet hair and rinse. Follow with Smooth As Silk
Conditioner.

Ingredients:
Aqua (Purified Water) with Rosemary Oil, Valencia Orange, Mango, Lemongrass, Ginko Biloba, Echinacea Angustifolia, Willow Bark, Sea Kelp, Chamomile Flower, Soy Texured Protein, Lavender, Grapefruit, C14-16 Olefin Sulfonate,
Cocamidopropyl Betaine, Glycol Stearate, Dimethicone, Vegetable Glycerin,
Polyquaterium 10, Olive Oil, Diazoidnyl Urea, Octyl Methoxycinnamate, Sodium
Chloride, Citric Acid, Fragrance with essential oils.