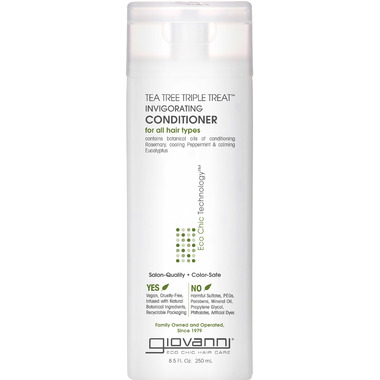 Description
Enriched with Certified Organic Botanicals.
Sends volumizing hydration into each individual hair.
Smoothes as it nourishes and restores strength.
Encourages natural shine and resilience.

You expect a conditioner to moisturize, smooth and detangle. You expect it to create a silky, sexy feel. You probably don't expect it to make you tingle all over. With Tea Tree Triple Treat Conditioner, an incredible plethora of stimulating ingredients provide all of that plus a real treat for hair: excitement. Who knew that conditioning could be so top of mind?

Ingredients: Aqua (purified water) with *Tea Tree (Melaleuca altemifolia), *peppermint (Mentha piperita) oil, *eucalyptus (Eucalyptus officinalis) oil, *nettle (Uritaca dioca) oil, *thyme (Thymus vulgaris) oil, birch leaf (Butela alba) oil, *chamomile (Anthemis nobilus flower) oil, *clary (Salivia sclarea), *coltsfoot leaf (Tussilago fariara), *yarrow (Arcillea millefolium) oil, *mallow (Malva sylvestris), *horsetail (Equestetum arvense) oil, *soybean protein (Glycine soja), cetyl alcohol (plant derived), tocopherol (vitamin E), trace minerals, citric acid (corn), sodium hydrozymethylgycinate, grapefruit seed (citrus derived).
Highlights