GoGo Quinoa Ecuadorian Quinoa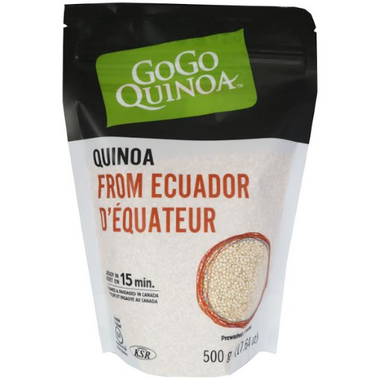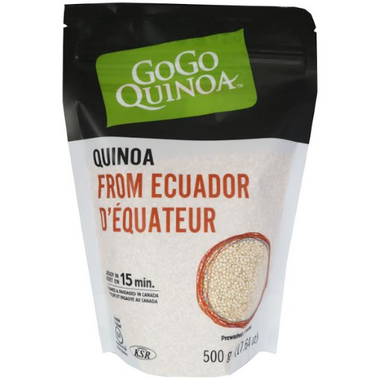 GoGo Quinoa Ecuadorian Quinoa
Gogo Quinoa's Ecuadorian Quinoa offers a grain substitute that is gluten-free, wheat-free, and vegan. Quinoa functions as a substitute for almost any grain including white rice or couscous. Because of quinoa's versatility, you'll see various quinoa recipes that take advantage of this super food!
Tired of what's in your pantry? Spruce it up with these healthy pantry staples found on our blog, The Well!

Benefits of Quinoa:
High in protein
Low in calories
Gluten-free
Complex-carbohydrate
Ingredients:
White Quinoa May contain nuts or traces of nuts.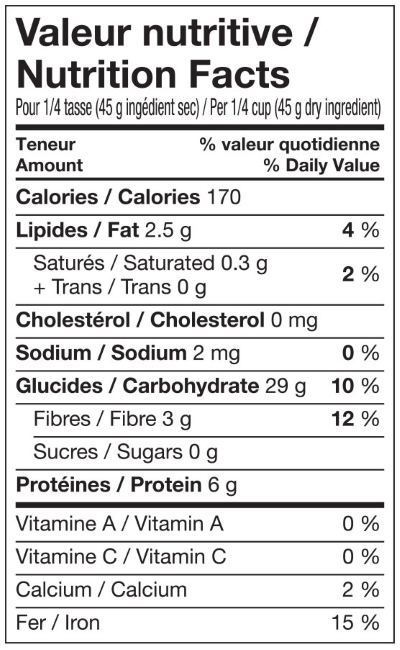 Preparation:
Quinoa is usually covered in a bitter resin called saponin and should be rinsed off before cooking. To cook quinoa, bring 1.5 cups of water to a boil, adding in 1 cup of quinoa. After boiling, reduce heat and simmer uncovered for 12 to 15 minutes.
Storage:
You can increase the shelf life of your quinoa by storing it in an air-tight container in a cool, dry place. You can also increase the shelf life of quinoa by freezing or refrigerating it.
More about GoGo Quinoa:
GoGo Quinoa is a manufacturer specialized in ancient grains and quinoa products. The purpose of GoGo Quinoa has been to provide healthy gluten-free products not only to those with celiac disease, wheat allergies, gluten intolerance or on wheat free diet, but also organic, vegan and delicious tasting products that the whole family will enjoy.

May contain traces of nuts.


Please note: while undergoing packaging changes, you may receive the old packaging.