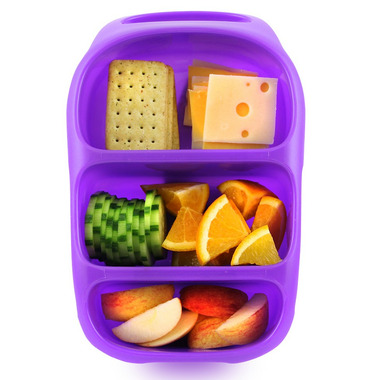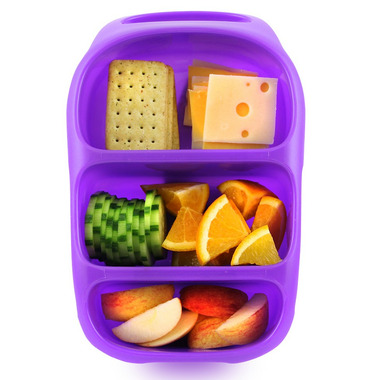 The Green Goodbyn Bynto utilizes three compartments to keep kids' foods separated. Sandwiches won't taste like your banana and your fresh fruit won't have biscuit crumbs in it! Goodbyn Bynto does away with wasteful plastic bags and drink boxes. Parents can save an estimated $190 per child each year on these two items alone. That's good news for Mom and Mother Earth!
Top container: Perfect for leftovers, a sandwich, sliced apples, oranges, even a banana. Middle compartment: Fits the eight-ounce drink bottle on its side (sold separately), or additional food. Bottom container: Fits sandwich halves, bagel, pasta salad, chips, yogurt or cereal.
Goodbyn products are not leakproof.
Features:
3 containers in 1
100% Recyclable
Top-drawer dishwasher-safe
FDA-approved Materials
BPA- and phthalate free
Lid and tray made of #5 Polypropylene
Dimensions: 10.75 in x 6.75 in x 2.5 in / 27.3 cm x 17.1 cm x 6.4 cm
Volumes: top: 2.1 c / 17 fl oz. / 508 ml; middle: 2 c / 16 fl oz. / 461 ml; bottom: 1c / 9 fl oz. / 252 ml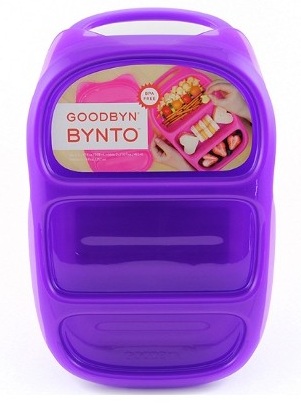 Amanda:
a few months ago
Love our Goodbyn! Have been using for 2 years with my 5 year old. Lid is easy for her to open and close, compartments do not leak into one another and it's big enough that when filled she has more than enough to eat. Best part... no little dishes and lids to wash and no pieces to lose!
Page
1