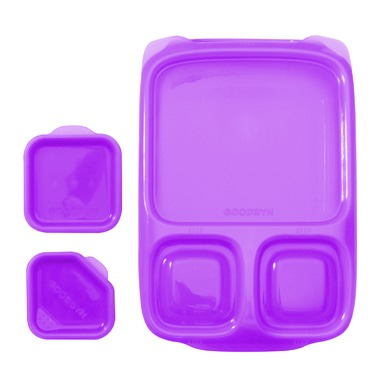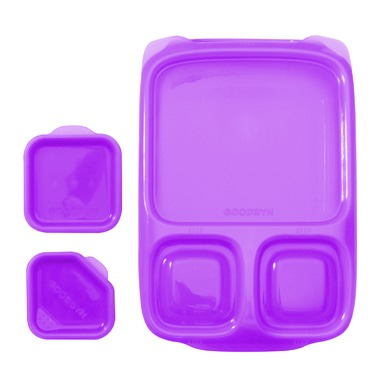 A dynamo for eating on the go - Goodbyn Hero comes with a three-compartment main container (fits a full sandwich!) and two Goodbyn dippers for ultimate flexibility. Goodbyn Hero keeps foods separated: sandwiches won't taste like your banana and your fresh fruit won't have crumbs in it! Goodbyn Hero is top rack dishwasher safe, BPA- and phthalate-free, and 100% recyclable.
Features
:
3 containers in 1, plus two dippers for ultimate versatility
Top rack dishwasher safe
FDA-approved Materials
BPA- and phthalate free
100% Recyclable
Goodbyn is not leakproof
Julie:
a few months ago
I read a lot of reviews of bento boxes before choosing to buy these, and like the previous reviewer I was disappointed to find that the lid doesn't feel properly attached.

The different sections are great sizes, and the larger one would be great for a pasta salad, mac and cheese or similar, but with the lid not fastening properly I can't/won't use it for that.

Having said that, the smaller boxes are leak proof (so far at least) and have meant my children can take a dip along with their veggies.

Definitely makes the children more inclined to join in with packing lunches
Emma:
more than a year ago
I bought this, along with the matching lunchbox, to get my 4 year old excited about preschool lunches. She loves it, and I find it makes packing a lunch a lot more manageable - just fill every space up with different snacks. We put peanut butter in the dip container. I love that it puts all her food in one place, instead of a bunch of different tupperware or baggies. My only complaint is that the lid doesn't ever feel like it's snapped on.
Page
1