Govinda Chufli Basic Apple Cinnamon Hot Tigernut Cereal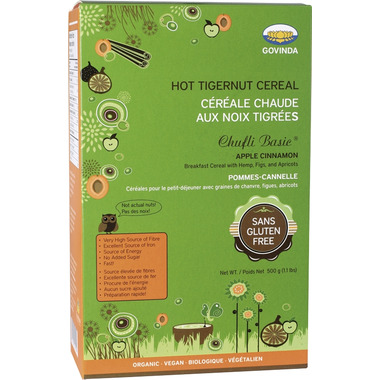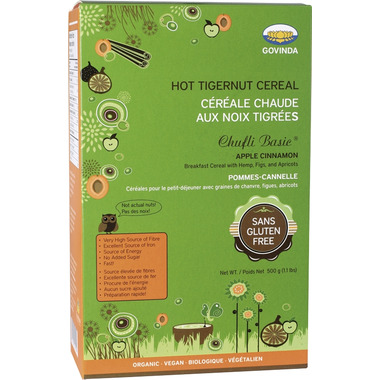 Govinda Chufli Basic Apple Cinnamon Hot Tigernut Cereal
"Chufli" is a delicious muesli made with chufa (the Spanish word for 'tigernuts'). Start your day right with this hearty, deliciously satisfying hot cereal. Chufli is a nutritional hot breakfast cereal made from tigernuts – a high fibre, naturally sweet tuber. Eating high fibre breakfasts allows for a slower release of carbohydrates, meaning you stay full for longer.
Chufli has the soft texture of ground tigernuts and other hearty, gluten-free grains. Govinda Chufli Basic Apple Cinnamon Breakfast Cereal contains Hemp, Figs, and Apricots.
Features:
Tigernuts are tubers, NOT actual nuts!
Very High Source of Fibre
Organic
Gluten Free
Excellent Source of Iron
Alkaline food – Balances the body's pH
Rich in easily absorbable minerals
Source of Energy
No Added Sugar
Delicious Hot or Cold
Fast!
How do I make it?
All Chufli needs added to it is water or your preferred milk/milk alternative. Like any hot cereal, you may also add any fruit and nuts you desire.
Chulfi can also be eaten cold. Get creative and start your day right with this creamy, highly nutritious breakfast cereal!
Ingredients:
Organic Ground Tigernuts (cyperus esculentus)*, Organic Cubed Figs, Organic Quinoa Bran, Organic Buckwheat Flakes, Organic Sunflower Seeds, Organic Apricot Pieces, Organic Teff Flakes, Organic Hempseed, Organic Dried Apple Pieces, Organic Cinnamon.
*Tigernuts are naturally sweet, thus no added sugar is necessary.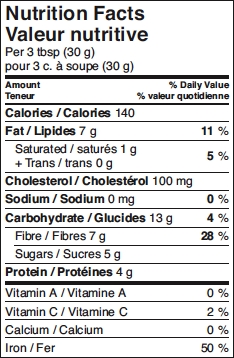 May have come in contact with nuts.