Grecian Formula 16 Liquid with Conditioner
Gradual Grey Coverage
120 ml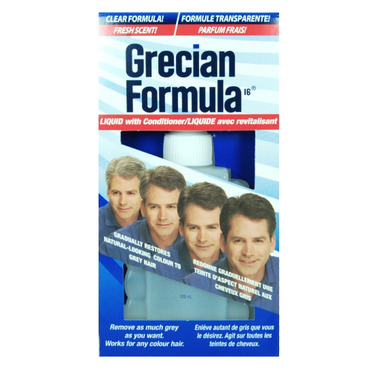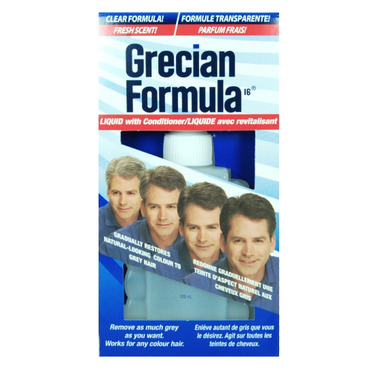 Grecian Formula 16 Liquid with Conditioner
Gradual Grey Coverage
120 ml
- We're sorry, this product is no longer available!
- Shop for other products in: Hair Colour

Greying hair is gradually losing its colour pigmentation, melanin. Grecian Formula 16 works with the hair's natural chemistry to produce pigment acting like melanin, so Grecian Formula 16 restores a rich, natural looking colour to the hair. And, it works for any hair colour. You can keep a little grey around the sides if you like.

It's built in conditioner makes hair looks healthier and actually solves many of the problems of thinning, greying hair.

Just apply Grecian Formula 16 daily at first, as you would a hair tonic. After 3 to 4 weeks, colour should be restored. Then use Grecian Formula 16 2 to 3 times a week to maintain colour.
Ingredients: Water, Isopropyl Alcohol, Triethanolamine, Bismuth Citrate, Sodium Thiosulfate, Fragrance, Panthenol.