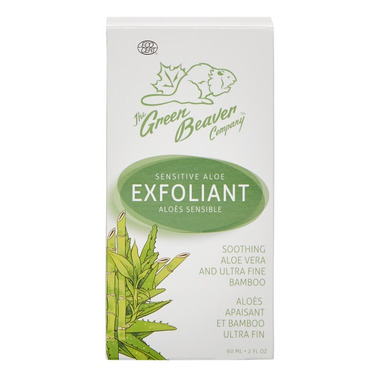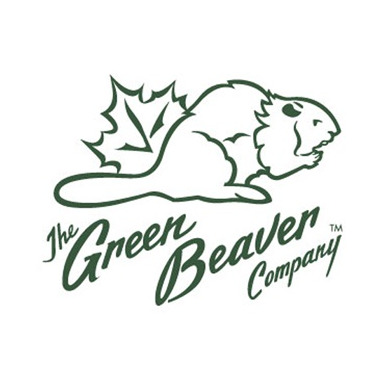 60 mL
Green Beaver Aloe Vera and Bamboo Facial Scrub
is rated out of
5
by
68
.
---
Description
Green Beaver Facial Scrub is getting a new look!

Facial Exfoliant with gentle bamboo micro-fibers, purifying grapefruit & soothing aloe.

An aloe cream based exfoliant that is remarkably gentle and soothing. Bamboo micro-fibers work synergistically with grapefruit enzymes to gently remove impurities and dead skin cells. Leaves your skin feeling radiant, smooth and silky. For best results, apply our aloe & green tea moisturizer after rinsing. Suitable for sensitive or troubled skin including eczema and psoriasis prone skin, as the citrus extract makes it a natural antibacterial solution and the aloe has anti-inflammatory properties.
Our products are safe for the whole family including babies.

100% NATURAL, BIODEGRADABLE, AND GLUTEN-FREE

They do not contain:
Paraben or hydantoin preservatives, sulfate detergents, artificial aromas, fragrances or dyes, phthalates, quaternium, EDTA, propylene glycol or petrolatum.
Ingredients:

Aloe Vera*, Shea Butter*, Glyceryl Stearate, Sunflower Seed Oil*, Glycerin, Sucrose Distearate, Carnauba Wax, Sensitive Aloe Natural Exfoliant*, Grapefruit Peel Oil*, Sucrose Stearate, Xanthan Gum, Tocopherol, Gluconolactone, Beta-sitosterol, Sodium Benzoate, Squalene, Potassium Sorbate.
*Ingredients from Organic Farming
Highlights

Rated

5

out of

5
by
Sharon
from
I really like this natural scrub...it is gentle and leaves my face clean and soft. I have psoriasis of the scalp and I did a little experiment. When showering I shampooed by hair with Green Beaver shampoo and left the shampoo in my hair and then exfoliated my face with Green Beaver face scrub and then worked the scrub up in my hair with the left on shampoo and gently rubbed my scalp and then rinsed and gave my hair a second shampoo and conditioner. I was so pleased,,my face was clean and my scalp felt wonderful and my hair was so soft and scalps felt so clean. I only use the scrub once a week and just a pea size amount.
Date published: 2019-09-05
Rated

5

out of

5
by
Lurlina
from
I love this product. Plain and simple. I have rosea and thus my skin is really sensitive and prone to going blotchy from products. I looked a long time to find a natural product, trying many and once I tried this one I'll never go back. If you are switching from products which contain chemicals / plastics and going to this one - you'll notice the difference on your face straight away. There aren't millions of bamboo scrubbers in this product, but just the right amount to feel like you're not going to sandpaper your face off. Also, since it's natural (I'm going to assume this is the reason) a few of my blemishes have disappeared and a few blocked skin pores have completely gone away. Great product! One downside: volume vs price.
Date published: 2015-07-15
Rated

4

out of

5
by
TOgirl
from
Soft scrub
This is a nice gentle face scrub, not overly harsh or drying. I was a but befuddled that there are no directions at all. I have had scrubs that direct you to cleanse your face prior to use. I didn't with this one as I assumed it is a combo cleanser & exfoliator. I used a nickel sized amount and scrubbed for a minute before rinsing. My skin felt nice and clean post. It doesn't say whether you can use this daily. I think I will use it a few times a week to start since I am way overdue for exfoliation and then dial it back to once a week.
Date published: 2021-01-15
Rated

5

out of

5
by
Jennifer
from
This product is lovely and is a simple yet highly effective exfoliator. I'm using all three face products by Green Beaver and am very happy with the results. Similar results to much pricier brands out there yet it is all natural which is a huge benefit. A little exfoliation goes a long way so the tube can last longer than you'd think. It feels good to use and is a welcome change to my skin care regime. Thanks!
Date published: 2010-06-29
Rated

5

out of

5
by
Heather
from
I was pleasantly surprised with the scrubbiness of this product. I wasn't expecting much exfoliation after reading some reviews but it's exactly what I was looking for. Gritty enough to be effective but not irritating or harsh. If St Ives apricot scrub is the grit you want, this is not for you but amazing on the proper skin type. Definitely recommend!
Date published: 2018-08-24
Rated

2

out of

5
by
Marie-Hélène
from
I really wanted to like this product since it is all natural and made in Canada. The smell is pleasant enough but unfortunately, it leaves me with the feeling that there is a film on my face after washing it off. I was also expecting there to be more exfoliating agents since it is described as a scrub. It feels more like a cleansing cream than a scrub.
Date published: 2014-02-03
Rated

3

out of

5
by
Celia
from
At first I was very pleased with this scrub because it seemed that a little bit goes a long way and I liked the texture, but over time I have found that this scrub has not helped eliminate my blackheads and in fact they might be worse! So I'll be buying another brand of scrub to see if I can achieve better results, but it's possible that my skin is just difficult and that this scrub is not to blame!
Date published: 2011-12-19
Rated

2

out of

5
by
Sabrina
from
I'm a fan of this product line because of the ethics of the company, but I can't say that I love this product. It's just "ok" nothing spectacular. The scent is nice, the product is not harsh at all but it just feels like a cleanser rather than an exfoliant. It works with my sensitive skin but I would rather purchase something I get visible results from in the future.
Date published: 2012-04-03