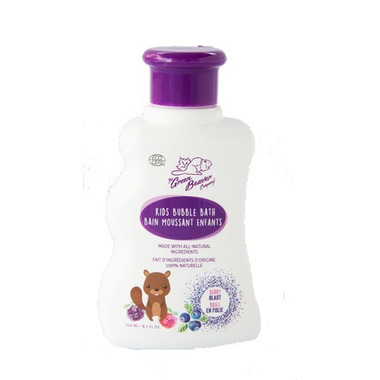 240 mL
Green Beaver Jr. Boreal Berries Bubble Bath
is rated out of
5
by
128
.
---
Description
Green Beaver Jr. certified organic for Kids. Pure, gentle and certified organic products specially formulated for children's delicate skin. These products are made with selected natural ingredients including Canadian raspberry and carrot oil to help nourish, hydrate and protect their skin and hair. All products are biodegradable, vegan, gluten-free and certified organic by ECO-CERT.
Ingredients:
Aqua, Lauryl Glucoside, Cocamido-propyl Betaine, Althaea Officinalis (Marshmallow) Root Extract*, Aroma*, Vaccinium Macrocarpon (Cranberry) Seed Oil*, Rubus Idaeus (Raspberry) Seed Oil*, Sodium Levulinate, Potassium Sorbate, Citric Acid, Glycerin, Xanthan Gum, Citrus Aurantium Dulcis (Orange) Peel Oil*
Highlights

Rated

5

out of

5
by
Dorota
from
I love this bubble bath. I've tried several different natural/organic types that did not smell as pleasant or foam as nicely and were as economic (liquid vs bubble) as this one. I don't know why some customers said that bubbles don't stay long, I find if I pour a little bit of bubble bath into the empty tub just as I turn on the water, they foam up nicely and stay forever. (Once I didn't drain the tub before putting my toddler to sleep and half an hour later they were still in the tub). It also takes very little of the bubble bath compared to other brands I've tried to foam up as nicely. (Live Bubble Bath, Baby Hugo, Happy Timez came nowhere close to this product) I'll be using this one from now on with my little guy.
Date published: 2012-01-05
Rated

2

out of

5
by
Rebecca
from
I bought this product due to the advertisement of the ingredients described as Pure, gentle and certified organic products specially formulated for children's delicate skin - however my daughter had a SEVERE allergic reaction to something in this formula (which I still cant pinpoint) and she normally doesn't have delicate skin. My son didn't have a reaction - but I also didn't find this to be much of a "bubble bath" as the suds diminished quite quickly compared to what other reviewers described so unfortunately it's just a mediocre rating for me :(
Date published: 2018-01-30
Rated

5

out of

5
by
Zinzela
from
Bought this because I love their sunscreen and the bubble bath was on sale. I am so impressed with a cap full of bubble bath the bubbles lasted 45 minutes and there was still some bubbles. My 4 year old loves bubble baths but with his sensitive and eczema skin this does not irritate his skin at all. LOVE THIS BUBBLE BATH and is definitely worth the money.
Date published: 2018-06-03
Rated

5

out of

5
by
Elaine
from
I have wasted a lot of money over the years searching for a good bubble bath for my son (yes, and I)...something that was not full of artificial scents and damaging chemicals, but which actually provides bubbles! I finally found it in this product. It makes great bubbles, and has a natural scent I don't react to. I would highly recommend it.
Date published: 2013-01-02
Rated

5

out of

5
by
Amy
from
Love this product, love this brand. I finally found a bubble bath that is free from chemicals and mild enough that my toddler with severe eczema can enjoy a bubble bath. It is also important that it is wheat free (this product is while many other natural products aren't) because my daughter also has a wheat allergy. Green Beaver Jr has become my go-to brand for chemical-free children's products. We also use their shampoo and detangler. And, it's Candian too, yay!
Date published: 2011-08-15
Rated

5

out of

5
by
Jen K
from
Awesome bubble bath
Great scent, doesnt irritate my kids skin. I would buy this again and again!
Date published: 2020-05-07
Rated

5

out of

5
by
Patti
from
Always a hit with Grandkids
I buy this bubble bath for stocking stuffers and birthdays. They love it.
Date published: 2020-07-20
Rated

4

out of

5
by
Nix
from
My son has eczema. I read the reviews by a few others who said their children had allergic reactions, however, my son has done very well with this product as well as the sunscreen. We have had to use extremely mild detergents so I was very relieved to find this bubble bath. As for the bubbles themselves, I find that there are not as many bubbles as other non-organic brands but for my 2 year old, he is quite content. :)
Date published: 2016-06-02