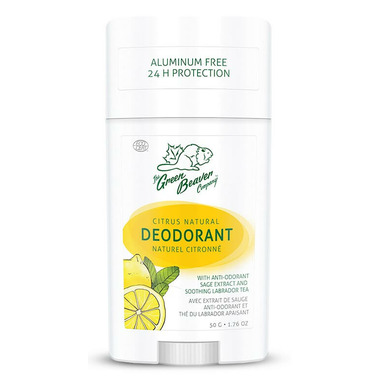 50 g
Green Beaver Natural Deodorant Citrus
is rated out of
5
by
12
.
---
Description
A refreshing fragrance that will keep the day from wearing you out!
This Green Beaver deodorant will kill any fear of smelling bad. Instead, relax, take a trip to the groves, and add a little zest to your daily groove. This outgoing aroma will embellish you and your confidence, and will certainly brighten your day!
Ingredients:
Propanediol, Aloe Vera *, Glycerin, Sodium Stearate, Polyglyceryl-10 Caprylate/Caprate, Tapioca, Sodium Caproyl/Lauroyl Lactyl Lactate, Triethyl Citrate, Sage Oil, Labrador Tea Extract *, Citrus Natural Deodorant Stick*, Orange Peel Oil*, Bergamot Oil, Tea tree Oil, Water, Glyceryl Laurate *Ingredients from organic farming. 100% of the total ingredients are from natural origin, 29% of the total ingredients are from organic farming.
Natural and Organic Cosmetic certified by ECOCERT Greenlife.

Free From: Alcohol, Aluminum, Ethanol, Gluten, GMO, Parabens, Propylene glycol or PEG, Synthetic Fragrance

Highlights

Rated

1

out of

5
by
Liv
from
Ineffective and unpleasant
Although the scent is pleasant, that is the only positive about this product. It leaves a gross film on your underarms that does not dry down (I even tried using a blowdryer on "cool" to see if that would fix it - nope, because it isn't even wet, it's just filmy). The film stays on your underarms all day and feels grosser once you start sweating (which, for me, is pretty much right away). Honestly, it feels so uncomfortable that I would prefer not wearing any deodorant at all and washing a few times a day instead. I did not find it to be incredibly effective against odour....perhaps it works for people who sweat less than I do.
Date published: 2020-09-02
Rated

4

out of

5
by
Marty12
from
Need to Reapply
I have found it difficult to find a natural deodorant that holds up all day. If I am going to be working out or in a hot atmosphere, then I will wear my other non-natural deodorant. On a day to day basis I strive to wear this deodorant which works if I reapply it at least 2-3 times per day. This does not bother me knowing that I am absorbing less chemically treated ingredients into my skin. This causes no irritation and smells like fresh lemon. This is not the type of deodorant that you can keep for many months, as it starts to lose its form too.
Date published: 2021-01-06
Rated

5

out of

5
by
Lailai
from
Never let me down
We all need to wear deodorant but the secret is to find one that works for us and doesn't have an overwhelming smell and doesn't do harm to our bodies. This is why I really love the Green Beaver deodorants. I also like the lavender scented one. I have sensitive skin but I've never had a rash from this product. I have use the roll-on's as well but I prefer the stick because it's immediately dry. It is something that I have recommended to other people!
Date published: 2022-10-08
Rated

4

out of

5
by
Em
from
Good natural deodorant
Have tried many other natural deodorant sticks. This is the only one that's actually worked for me. I don't find this works as well as a chemical based antiperspirant, so if you're expecting that, you'll be disappointed. On days I really sweat (ie. a big presentation at work), I need to reapply this often. I think for people who don't perspire/stink strongly, this would be perfect. I do love the light scent.
Date published: 2020-05-03
Rated

5

out of

5
by
Tannia
from
Amazing
Been using this deodorant for years. I love the scent. I find that if you apply enough, it's very effective. It's not an antiperspirant, which is a good thing because those are not good for you. All in love, love this deodorant.
Date published: 2021-10-07
Rated

5

out of

5
by
Vanton
from
Goes on smooth
Great deodorant. The only thing that works for my husband who has eczema.i like the scent and it goes on smooth. We both use it.
Date published: 2021-01-28
Rated

4

out of

5
by
Shelder
from
Great smell
I bought this a month ago and it works all day, the scent isn't too strong and the texture is nice. Doesn't stick to your clothes
Date published: 2020-12-26
Rated

5

out of

5
by
chasm
from
My new fave!
Goes on smoothly with no heavy waxiness. The lemon scent is very light. I'm very impressed with the odour control.
Date published: 2022-03-25