Green Beaver
Green Beaver Natural Mineral Sunscreen Lotion SPF 40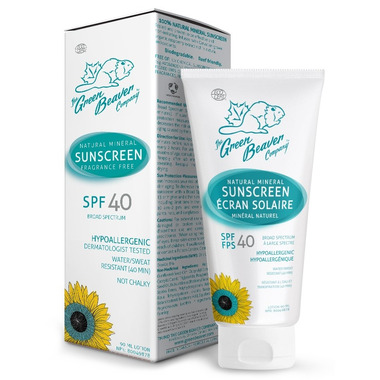 Green Beaver
Green Beaver Natural Mineral Sunscreen Lotion SPF 40
90 mL
Green Beaver Natural Mineral Sunscreen Lotion SPF 40
is rated out of
5
by
12
.
---
Description
Green Beaver Certified Organic sunscreen is developed for all skin types. With ingredients that are natural and gluten-free, they offer a gentle alternative to sun protection that will leave your skin feeling soft and healthy. Try them today to discover the benefits of a long-lasting protection that will moisturize your skin and help prevent signs of aging.

Features:
Certified Ecocert
Gluten Free
Health Canada Approved
Hypoallergenic
Non-nano
Non-silicone coated
Non-Whitening
Waterproof
Biodegradable
Active Ingredient(W/W):
Zinc Oxide 8%, Titanium Dioxide 8%.
Non-medicinal Ingredients:
Helianthus Annuus (Sunflower) Seed Oil*, Rubus Idaeus (Raspberry) Seed Oil*, Dicaprylyl Carbonate, Caprylic/Capric Triglyceride, Pongamia Glabra (Karanja) Seed Oil, Polyhydroxystearic Acid, Jojoba Esters, Polyglyceryl-3 Polyricinoleate, Beeswax*, Isostearic Acid, Hydrolyzed Jojoba Esters, Trihydroxystearin, Aqua/Water/Eau, Alumina, Beta-sitosterol, Lecithin, Squalene, d-alpha Tocopherol.
Highlights

Rated

5

out of

5
by
Carla
from
PERFECT-when properly appliec
I notice many reviewers critiquing this product for its heaviness and appearance on skin. These reviewers are not applying it properly. With mineral sunscreens you cant just slap it on your face. For a very skin-friendly beautiful application, use s pea-size amount, warm it up in your hands first, then rub it into skin an area at a time witnout moving on to s new area until it is invisible. If you dont do this and leave it sitting on your skin with a whitecast, you will be stuck with a whitecast because that is how it oxidizes. However, applied correctly, this sunscreen has the most impeccable ingredient list combined with sun-blocking ability that i have found (a guilt-free sunscreen that is actually a treat for the skin!). It gives my skin a beautiful natural glow and also does a great job doubling as a make-up primer. If you are looking for a luxurious natural mineral sunscreen for face and you enjoy plump dewy protected skin (hello over 40) this is it for me. Sometimes i mix this with the avene tinted mineral sunscreen for face (because the tint in that is way too dark) and then it works as a tinted moisturizer (oh yeah i forgot- no need for moisturizer as this is super moisturizing- i cleans, apply this sunscreen (properly) then onto makeup if i am wearing any. I prefer matte makeup so this works well because i can "mattify" my t-zone and my face still feels and looks fresh and dewy.
Date published: 2020-07-06
Rated

1

out of

5
by
Mm
from
Like applying oil
This sunscreen may be good if you have Sahara desert dry skin. I have normal body skin and oily prone face skin and this sunscreen just makes me shine like I just applied a bottle of olive oil. Leaves your hands slippery and greasy so that you can't touch any clothes if you to want to stain them. I mean ok green beaver is a green brand but do we really need this much sunflower oil in the formula? No we don't. I can get over the horrible white cast this product leaves but I can't get over the greasiness disgusting feeling it leaves. Too bad because it doesn't take 20 dollars and a bunch of geniuses to make a eco friendly sunscreen, go to Europe (Italy/France/Greece/Germany) there's PLENTY of amazing green brands and totally amazing and affordable products. Unfortunately this is canada
Date published: 2022-06-24
Rated

1

out of

5
by
Jack1234
from
Worst white cast
I am very very fair. This sunscreen made me look white. Like ghost white. It did not rub in or sink into the skin. No matter how much I rubbed I looked like a ghost. The formula did not absorb into my skin. Even hours later it was transferring on to my mask. It's very greasy and will not work even for those with the palest skin types.
Date published: 2021-04-15
Rated

4

out of

5
by
frieda
from
extremely moisturizing/good sun protection
i have been using this the last few years and really like the product overall. i like that it is not a chemical sunscreen and it has great moisturizing ingredients. in summer i use it in lieu of a moisturizer. it does tend to leave a white cast on the skin until it absorbs or you need to spend some time rubbing it into the skin, but personally that doesn't bother me. most zinc dioxide based sunscreens do have a whitening effect from what i can make out.
Date published: 2020-11-27
Rated

1

out of

5
by
BC Mom
from
Terrible
Found it over priced. Leaves white lines after it dries. Smells awful, like sunflower seed oil? Is very greasy and gives me white heads. Might as well rub rancid lard all over my body. Yuck.
Date published: 2021-05-15
Rated

5

out of

5
by
MaBa
from
Tough to rub in but effective
I was in search of a more organic and less toxic alternative to regular sunscreens. I do need to do more research on this one but overall it seems good. It's a bit tought to really work it in and you might have a whitish cast on your skin where you apply it. it does do the job and doesn't smell weird.
Date published: 2021-06-02
Rated

1

out of

5
by
reviewer89657
from
Horrible white cast, so sticky
Avoid this, I'm the palest person and this leaves even me with a white cast. I saw other reviewers say just use a little bit, but then you need the proper amount in order to properly cover and protect yourself from the sun. All in all, heavy, greasy, white chalk.
Date published: 2021-07-22
Rated

5

out of

5
by
hannat
from
Great for sensitive skin
My 3 year old breaks out in rashes from most sunscreens, but had no problems at all with this one. It goes on fairly chalky so I wouldn't recommend it with makeup, but it applied easily and evenly. It's waterproof and reasonably long lasting.
Date published: 2020-06-04