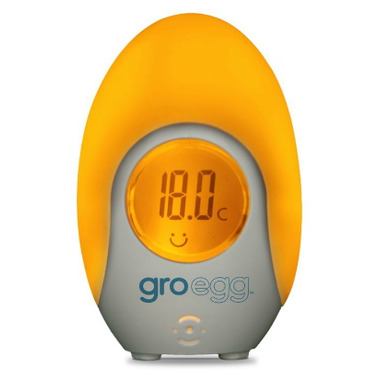 Digital Room Thermometer
Gro-egg
is rated out of
5
by
27
.
---
Description
Peace of mind at a glance - the innovative Gro-egg changes colour to let you know at a glance whether the temperature of a room is too low, too high or just right. This helps you maintain a safe sleeping environment for your baby. As an added bonus it even works well as a gentle night light.
A yellow glow suggests a comfortable temperature for children to sleep in, while a blue glow suggests it's too cold and a red glow suggests it's too warm. The colours act as a reminder for you to cool or heat the room, to modify the baby's clothing, to use a different tog Grobag Baby Sleep Bag or for non-sleep bag users to alter the level of bedding.
Features:
Simple to use room thermometer that changes colour
Digital room thermometer with permanent 'back-light'
LCD readout
Provides a soft 'nightlight' glow
Instructions and safe sleep guide enclosed
Rated

4

out of

5
by
Helen
from
Based upon the great reviews, I'm glad I bought it. It'really cute! And most importantly it's really nice to know if the room is too cold or too hot. Apparently the "right" temperature is 18 degrees, but i find that my son is most comfortable sleeping between the ranges of 21 to 24 degrees ( just wearing diaper, thin onesie and a sleeper throughout the whole year...yes...even during the summer months). I guess every baby is different. It's nice that it has different color indicators as well as a digital temperature reading. Too bad it's abit on the pricey side....otherwise I would have given it 5 stars.
Date published: 2013-05-31
Rated

5

out of

5
by
Victoria
from
Great product
I bought this when we had our second baby (she was a winter baby, so I was worried about the house being too cold). I just bought another one for our room since our third baby due in the fall will be in our room for the first little while... Great product! Acts as a little nightlight and tells you the temp of the room.
Date published: 2020-07-21
Rated

5

out of

5
by
Sam
from
Perfect from Infancy and Beyond!
I have purchased this gift several times for new moms. It is a great addition to any nursery and lets parents know the temperature of a room with just one simple glance. I have friends who have used this product past infancy to make sure their little one is comfortable throughout the night. I also love that lights up so parents can check in on their baby without turning a light on. Very satisfied with this product
Date published: 2020-10-26
Rated

4

out of

5
by
Joyce
from
Love this product. The recommended temperature is really cold though so we keep it at 21-24° as well and keep baby lightly dressed. It has a nice light but I would like something brighter so I'll be using an additional night light. Love watching the temp go up and down as I open windows and doors. When I rock baby and walk around the room I see the temp rising. Super accurate.
Date published: 2013-09-13
Rated

4

out of

5
by
Tam
from
I was looking for a nursery nightlight and this cute little egg does double duty by being a useful room thermometer as well. Only downside is I can't distinguish between the yellow and orange, or orange and red easily. Luckily it has a digital readout as well. I was interested to learn that hot temps in the nursery increase SIDS risk. Glad to have found this product on well.ca!
Date published: 2012-07-04
Rated

5

out of

5
by
Courtney
from
We love this item! We noticed that our baby's room was quite warm, but had no way of knowing if it was "too warm". This little gadget certainly does the trick! We now know we have to tinker with the temperature in that room during the hot summer months. And the quick & free shipping from Well.ca was a bonus!
Date published: 2012-08-02
Rated

5

out of

5
by
Patricia
from
This thermometer is very handy - I can see the room temperature from the doorway when I check before going to bed. It also comes with a handy chart that suggests appropriate bedding/clothing combinations for different temperature ranges to ensure that the baby is not overdressed/overheated.
Date published: 2012-08-22
Rated

5

out of

5
by
Yianna
from
This is a perfect product more for a piece of mind. Sometimes I find the nursery to be too cold but the Gro Egg tells me the exact temperature. It says that 18 is perfect even though I find that too cold. I don't worry about that too much. I will only start to worry when it turns blue.
Date published: 2015-10-28