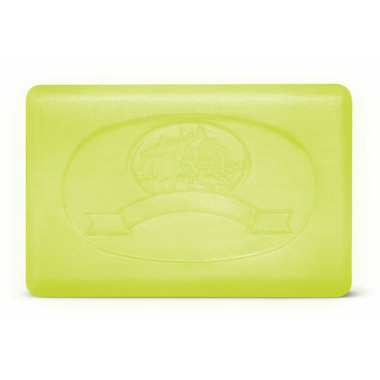 90 g
Guelph Soap Company Lemon Lime Burst Bar Soap
is rated out of
5
by
41
.
---
Description
Excellent lathering family soap bars. Mild and soothing, a true daily delight for the skin. These glycerin and vegetable based bars are made from a moisturizing blend of palm and palm kernel oils. Enriched with a touch of nature's finest ingredients, oils and blended fragrance, our bars are the answer for discerning consumers that appreciate the variety and uniqueness of natural soaps.
Highlights

Rated

5

out of

5
by
Alison
from
Sunshine and happiness in a bar! This smell (more lemon that lime to my nose) is a total mood lifter. It's rare that a bar of soap has that effect on me. It also makes my skin feeling clean and it rinses off easily. Some comments below suggest that the bar doesn't last very long. I think that is all relative to the size of the bar. This bar is smaller than some but the upshot for me is that it fits nicely in my hand and the cost reflects the smaller size. I prefer getting 2 of this sized bars than one big 6oz bar that is too large for my hand initially. I also purchased this fragrance for my mother and she was in heaven after her first use. 5 stars all the way!
Date published: 2015-09-01
Rated

5

out of

5
by
jaroo
from
love the smell
My whole family uses this soap, and I just love the refreshing and rejuvenating smell! My 3-year old, who has severe eczema and easily irritated skin, uses it to wash her hands and has never had any issues or irritation from it. For that alone, this soap is awesome.
Date published: 2020-05-23
Rated

5

out of

5
by
Elise
from
Fantastic soap! It's so crisp and refreshing smelling that it really wakes me up in the morning. I'm also impressed with the creaminess and amount of lather it makes. I feel super clean and smell great after using it. I'd definitely purchase more of this!
Date published: 2011-12-01
Rated

5

out of

5
by
Kim
from
Amazing, amazing soap. I will definitely buy again and try a different kind. The smell is great, it lathers well, you get squeaky clean .. it's basically like your every day soap but with the added bonus of being completely natural!
Date published: 2012-02-28
Rated

5

out of

5
by
Rob
from
I love this soap! The citrusy scent is luscious -- very evocative of lemon lollipops -- and I find that the soap creates a great lather and that the bar doesn't vanish quickly. I'll buy these again.
Date published: 2011-10-04
Rated

5

out of

5
by
Linda
from
I love this soap and my hands feel clean and soft. I bought this at Superstore and it's a bit cheaper than at well.ca. Though they do not have the selection that well.ca offers.
Date published: 2015-11-03
Rated

4

out of

5
by
Leann
from
Very nice soap with good lather, good value for the $$, doesn't leave film on skin. Would like the scent to be a little stronger and it would be perfect soap.
Date published: 2018-06-15
Rated

5

out of

5
by
Roberta
from
I didn't expect to love this soap, BUT I do! Lovely fresh, light scent, feels good on skin and after use. I just ordered some other kinds to try.
Date published: 2017-03-18