GUM
GUM Secure Denture Adhesive Cream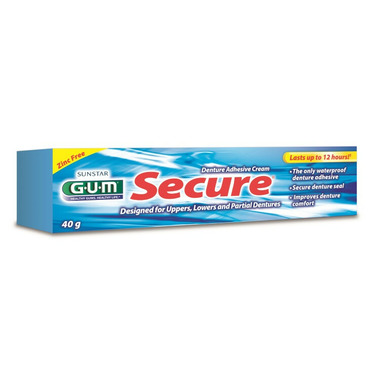 GUM
GUM Secure Denture Adhesive Cream
40 g
GUM Secure Denture Adhesive Cream
is rated out of
5
by
23
.
---
Description
Secure creates a strong bond between the gum and denture which eliminates slipping and sliding even for the main problem area, your lower dentures. Secure adhesive will not dissolve in water, so it will not wash out while eating or drinking. Secure is flavour-free, so your mouth can feel the way nature intended.

Will not dissolve while eating or drinking

Lasts up to 12 hours

No flavour added

Zinc free
Rated

3

out of

5
by
Kate
from
Secure is somewhat longer-lasting and more effective than the others I've tried, though it does not last a full day. However, it's very hard to remove. After vigorous brushing and soaking there is still a white residue that has to be picked off with a hard object. That's a time-waster and can't be good for my dentures.
Date published: 2013-10-23
Rated

3

out of

5
by
Susan
from
This product came highly recommended and I am mostly happy with it. It does provide a tight seal on lower dentures but does not last the 10-12 hours stated. I am usually able to go through two meals with it and then must re-apply. It does require some patience in cleaning up but you get more skilfull as you practice. I am pleased that there is no zinc in this product. I have not experienced any burning sensation as stated by others nor do I have any after taste. Just wish the hold was longer.
Date published: 2011-10-22
Rated

3

out of

5
by
Kari
from
I'm fairly new to dentures (about 4 months); my uppers fit reasonable well and are not really a problem but the lowers are a real challenge. Prior to trying Secure I have tried everything available and the best result I could get was about 6 hours with Polygrip Stronghold. Fixodent products lasted about four hours, and Seabond did not work well at all. None of them last through two meals. After reading the reviews for Secure, I had great hopes that it would perform better so I ordered some online from Well.ca. I am very happy with Well.ca's service and delivery, but unfortunately the Secure works no better (or worse) than the other products I have tried. My dentures still have soft liners, so I am still holding out hope that it will work better after I get the hard (permanent) linings done in a couple of months.
Date published: 2013-10-16
Rated

5

out of

5
by
cynthia
from
My husband and i ordered secure denture adhesive because there was no zinc in it . We like it better then the Fixident we were using, it holds better all day and you don't have to reapply it and it is not as messy or hard to apply as some of the pads or powders are. The one thing they could do to make it a little better is to put a finer tip on it so you can get it in to the hollow part of the dentures better. And the price is not bad either. Yours truly Cynthia
Date published: 2012-03-23
Rated

2

out of

5
by
Norma
from
Having used Fixodent for a long time, I was looking for a zinc free replacement. Unfortunately, Secure is not it. I found it did not last 12 hours as advertised; not even 6 hours. But the worst problem I had was removing it from my dentures after it has lost it's "stick". What a disaster. Took forever to remove the sticky goo. Tried Polygrip too, bu it's not quite so bad as Secure. So back to Fixodent, zinc and all...
Date published: 2011-07-18
Rated

4

out of

5
by
Robert
from
Well, I am new to dentures, and have tried several different brands. Secure has been the best so far. Holds very well, and if your plates fit good without a bonding agent you only need a very small amount of Secure. Easy clean up, and best of all, I do not feel as insecure as I thought I would... Highly recomend.............
Date published: 2012-08-06
Rated

3

out of

5
by
Denis
from
I must preface my comments with the fact I have very mobile partial dentures. This product is only 20% better than all the others. I found that for me it lasted less than a day. Plus the first statement "" It does not dissolve while eating or drinking" should read " It does not dissolve Immediately while eating or drinking""
Date published: 2012-03-23
Rated

2

out of

5
by
Diane
from
this product caused a burning sensation in my mouth for the first 30 to 45 seconds which fades. Product is not waterproof as advertised and it starts to come loose after a meal and only lasts 4 or so hours if I do not est or drink. The product is difficult to clean off my dentures too.
Date published: 2018-08-30